Thomas J. Barstow
Professor of kinesiology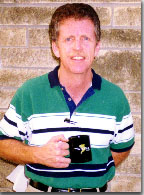 Tom Barstow, a professor of kinesiology, is an international leader in developing noninvasive techniques to measure metabolism, cardiovascular and pulmonary function in humans.
Barstow's current research focuses on how blood flow to contracting muscles is controlled in healthy subjects. He is also working with NASA to identify key components of physical conditioning, which are important to an astronaut during space flight and subsequent performance of various physical tasks in space, such as the International Space Station or on another planet. He also provides instructional expertise in exercise physiology, exercise testing, muscle physiology and nutrition and exercise.
Barstow joined K-State in 1996 and was promoted to professor in 2000. He was head of the department of kinesiology from 2002-2007. Prior to joining K-State, Barstow served as director of the Pulmonary Physiology Research Laboratory at the Harbor-UCLA Medical Center.
He received a bachelor's degree in nutrition in 1974, a master's in physical education in 1978 and a doctorate in physiology in 1985, all from the University of California, Davis.
Barstow is a member of many professional organizations, including the American College of Sports Medicine, the American Heart Association, Cardiopulmonary Council and the American Physiological Society.
He has served as a grant reviewer for funding agencies such as the National Institutes of Health, NASA, California Tobacco Related Disease Research Program, the Natural Sciences and Engineering Research Council of Canada, and the Italian Telethon for Muscle Diseases or Fondazione. He is an active reviewer for several professional journals and serves as a student research adviser at K-State. Barstow's graduate students have received regional and national honors for their research projects.
Barstow can be reached at 785-532-0712 or tbarsto@k-state.edu.