Kurt Barnhart
Associate dean of research and outreach
Executive director, Applied Aviation Research Center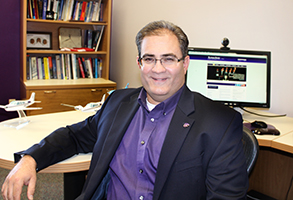 After helping make Kansas State University Salina's aviation program one of the best in the nation, Kurt Barnhart has taken on a new role as the campus's associate dean of research and outreach.
K-State Salina faculty members collaborate with Barnhart on new research ideas. He provides feedback, reviews proposals, assesses budgets and connects them with funding opportunities as well as links them with ongoing research projects on the Manhattan campus. Barnhart also is working to encourage educational exploration within the K-State Salina student body.
Before his appointment as associate dean in June 2014, Barnhart was professor and head of the department of aviation at K-State Salina. Barnhart holds a commercial pilot certificate with instrument, multiengine, seaplane and glider ratings, as well as airframe and powerplant certification with inspection authorization. He also is a certified flight instructor with instrument and multiengine ratings. He has been a National Association of Flight Instructors' Master Flight Instructor since 2003.
Barnhart also serves as executive director of the Applied Aviation Research Center at K-State Salina, which oversees the unmanned aerial systems office. The center's primary focus is the integration of unmanned aerial systems into the national airspace system and enabling homeland security responses to natural and man-made disasters.
A member of K-State's graduate faculty, Barnhart's research focuses on aviation psychology and human factors. He has taught numerous aviation courses, including general aviation operations and aviation risk analysis. He also has published numerous articles in journals, including the Journal of Aviation/Aerospace Education and Research and the International Journal of Applied Aviation Studies. He has also given presentations in aviation safety at numerous conferences.
Barnhart came to K-State in July 2007 after serving as acting chair of Indiana State University's aerospace technology department, where he also has served in a teaching capacity since 1996. He brings industry experience as a research and development inspector with Allison Engine Co. — now Rolls Royce — and as a systems instructor with American Trans Air.
Barnhart developed the first online renewal course for Federal Aviation Administration inspection authorization mechanics with Gleim Publications. In 2009 he received the University Aviation Association's Sorenson Award for significant scholarly contributions to collegiate aviation. He has received Indiana State University's Fred Swalls Award in Educational Administration and Leland D. Melvin Award in Education as well as the Sorenson Award for scholarship in collegiate aviation in 2009. In 2011 he was named by Ingram's magazine as one of the 50 Kansans you should know. He has also served as president of University Aviation Association, and has been a member of the Aircraft Owners and Pilots Association and the National Association of Flight Instructors.
He has a bachelor's degree in aviation administration from Purdue University, a master's in business administration from Embry-Riddle Aeronautical University and a doctorate in educational administration from Indiana State University. He also has several notable flight and mechanic ratings, has received KA B200 and Citation II advanced training from Flight Safety International, and has completed the FAA's accident investigation course.
Barnhart can be contacted at 785-826-2972 or kurtb@k-state.edu