Michael Babcock
Professor of economics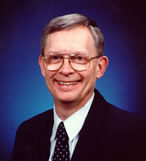 In agricultural states like Kansas, economic success can rely heavily on available transportation. Michael W. Babcock, professor of economics at Kansas State University, is recognized as a national and international authority on agricultural transportation.
The economic impact of maintaining short-line railroads, highways and airports in Kansas and other rural areas has been the topic of many of the technical reports Babcock has compiled. Babcock's research has been cited at congressional hearings, has been included in public dockets and has played an important role in shaping public policy in such areas as railroad deregulation, proposed railroad mergers and economic development. His research led to the creation of Kansas programs to support short-line railroads and rural airports.
He has been the principal investigator or co-investigator on 33 federal and state government research grants totaling more than $2.3 million. In 1995, Babcock was appointed by Kansas Gov. Bill Graves to the Governor's Railroad Working Group, which advised the governor on issues related to the mergers of Burlington Northern Railroad-Santa Fe Railroad and Union Pacific Railroad-Southern Pacific Railroad.
In 2005 he received the Herbert O. Whitten Transportation Research Forum Service Award for professional contributions to the forum, becoming only the eighth person to receive the award in the 46-year history of the forum. The award is the highest honor bestowed by the forum. In 1998 he was awarded the Institute for Social and Behavioral Research's Senior Faculty Award for research excellence in the social and behavioral sciences from K-State.
His other numerous research awards include the Rail-Tex Corporation Award for the Outstanding Paper in Agricultural Transportation, the Burlington Northern Railroad Award for outstanding research in the field of agricultural transportation and the prestigious United Parcel Service Foundation Award for the outstanding paper in the field on intermodal transportation. He was also awarded the A.T. Kearney Prize for outstanding research in the field of railroad mergers.
In 2012, Babcock's research on Kansas rural roads was selected by the American Association of State Highway and Transportation Officials as one of 16 high-value research projects out of 120 submissions nationwide.
Babcock has taught at K-State since 1972. He graduated with a bachelor's in business administration from Drake University in 1967, and received his master's and doctoral degrees in economics from the University of Illinois in 1971 and 1973, respectively.
Babcock can be reached at 785-532-4571 or mwb@k-state.edu.