Kristy Archuleta
Associate professor of family studies and human services
Director, K-State Financial Planning Clinic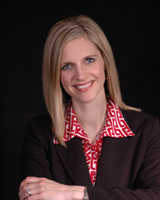 When couples are having trouble talking about money, Kristy Archuleta can help. Archuleta specializes in financial therapy, a blending of personal finance with marriage and family therapy. Archuleta, a licensed marriage and family therapist, is an associate professor at Kansas State University in the School of Family Studies and Human Services. She also serves as director of K-State's Financial Planning Clinic.
Archuleta joined the K-State faculty in 2008. Her research interests include rural and farm families, dyadic processes influencing financial satisfaction, empirical based treatment for couples experiencing financial difficulties, and theoretical development to understand the connections between personal finance and couple relationships and how to work with them.
She serves on the board of directors of the Financial Therapy Association, editor in chief of the Journal of Financial Therapy, on the editorial review board of the Journal of Financial Planning and co-founded Women Managing the Farm, a regional conference aimed at educating, supporting and building skills of farm women and agriculture professionals. She chaired the committee from 2006-2011.
Archuleta received her bachelor's degree in family relations and child development and minor in business management from Oklahoma State University in 2001. She earned her master's degree in family studies and human services with specialization in marriage and family therapy, and received her graduate certificate in personal financial planning, both from K-State in 2005. She completed her doctorate degree in human ecology with specialization in marriage and family therapy and emphasis in personal financial planning at K-State in 2008. She was promoted to associate professor in 2013.
Archuleta can be reached at 785-532-1474 or kristy@k-state.edu.