Sajid Alavi
Professor of grain science and industry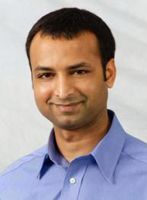 Sajid Alavi is working to benefit Kansas producers through value-added processing of agricultural commodities.
As a food engineer, Alavi researches extrusion processing, a continuous cooking technology used to make a variety of food and non-food industrial applications. Products commonly made by extrusion include cheese puffs, pasta, breakfast cereals, pet food and aquatic feed. He also studies food microstructure imaging; structure-texture relationships; and rheology, the science of flow of food materials that behave in an interesting or unusual manner.
Some of his current research involves developing healthy processed foods such as fruit or vegetable-based extruded snacks, increasing ethanol yields through novel thermo-mechanical pretreatment for cellulosic biomass, and utilization of extruders as continuous reactors for applications such as manufacture of starch-clay nanocomposites that can be used for making biodegradable packaging or production of sorghum protein concentrates from raw sorghum flour.
Alavi's research has been published in several journals, including Food Research International, Cereal Chemistry, Carbohydrate Polymers, International Journal of Food Properties, Journal of Agricultural and Food Chemistry, Journal of Food Process Engineering and Journal of Food Protection. He also has presented his work at professional meetings across the country. Apart from research and teaching, he works closely with industry and also regularly conducts extrusion short courses both at K-State and internationally.
He is a member of the American Institute of Chemical Engineers; Institute of Food Technologists; and the American Association of Cereal Chemists, where he served as secretary/treasurer of the Rheology Division. He also is a member of Gamma Sigma Delta, the honor society for agriculture.
Alavi joined K-State in 2002 and was promoted to associate professor with tenure in 2008 and was promoted to full professor in 2013. He earned a bachelor's in agricultural engineering from the Indian Institute of Technology in Kharagpur, India; a master's in agricultural and biological engineering from Penn State University; and a doctorate in food science and food engineering from Cornell University.
Alavi can be reached at 785-532-2403 or salavi@k-state.edu. More information on the extrusion program at K-State is available at http://www.grains.ksu.edu/extrusion.