Joseph Aistrup
Professor of political science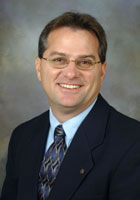 Joe Aistrup knows his fair share about politics. The K-State professor of political science specializes in Kansas politics, public policy and methodology. He comments regularly about Kansas politics for print and electronic media, and he is one of five editorial writers for "Insight Kansas," a syndicate that analyzes Kansas politics and government.
Aistrup has published two books. In 2010 he and colleague H. Edward Flentje published "Kansas Politics and Government: The Clash of Political Cultures" by the University of Nebraska Press. In 1996, Aistrup published "The Southern Strategy Revisited: Top-Down Republican Party Development in the South" by the University Press of Kentucky.
His work has been published in a number of political science journals, including Social Science Quarterly, Political Research Quarterly, Legislative Studies Quarterly, Soviet Studies and American Review of Politics, as well as in public policy and analysis journals, including Court Review, Economic Development Review, Economic Development Quarterly, Kansas Government Journal and Kansas Business Review.
Aistrup is currently working on several research projects. One study focuses on the identifying political party alignments and realignment in American states. Another is a National Science Foundation study assessing issues of sustainability and the long-term viability of the Ogallala Aquifer in western Kansas. He also is part of a NSF-EPSCOR team from K-State and the University of Kansas working on how land use and land cover changes in Kansas due to climate change and the development of the biofuels industry.
Aistrup teaches courses in U.S. government, state and local politics, elections and political parties, public policy analysis, and research methods. He joined K-State in 2002, serving as head of K-State's department of political science from 2002-2009. He served as interim associate dean of the College of Arts and Sciences from January 2009 to June 2011, and then was appointed to serve as interim dean of the college from July to December 2011.
Prior to joining K-State, he was director, from 1999 to 2002, and the assistant director, from 1993-1999, of the Docking Institute of Public Affairs at Fort Hays State University. He also was an assistant professor of political science at Virginia Tech from 1988 to 1992.
Originally from Winfield, Kan., Aistrup earned a bachelor's degree from Fort Hays State University, a master's from Virginia Tech and a doctorate from Indiana University.
Aistrup can be reached at 785-532-6900 or jaistrup@k-state.edu.