Christine Aikens
Associate professor of chemistry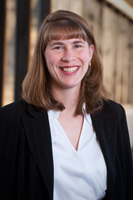 Christine Aikens, associate professor of chemistry, has primary research interests in theoretical, physical and materials chemistry. Her various projects are funded by K-State, the Air Force Office of Scientific Research, the American Chemical Society-Petroleum Research Fund, U.S. Department of Energy and the National Science Foundation.
She also has published numerous articles about her work.
In 2010 Aikens received a National Science Foundation CAREER Award to support her research clarifying details of how plants and inorganic systems use light to split water into hydrogen and oxygen. The work could lead to clean, renewable sources of energy.
Part of the award benefits K-State students in Chemistry I laboratories as Aikens incorporates molecular modeling software to help them learn how to visualize molecular geometries. She also offers a yearly energy and sustainability workshop for middle school students where they can study solar power, biological energy and other technology related to renewable energy and materials. Aikens is making a special effort to include rural students from sparsely populated areas in the program.
In 2011, Aikens was recognized as a Sloan Research Fellow for her success as a promising young scholar, particularly in the research areas of sustainable energy and gold nanoparticles. The fellowship is a two-year $50,000 award, which the Alfred P. Sloan Foundation gives annually to early-career scientists and scholars as a way to recognize their achievements and potential to contribute to their field.
Aikens was also recognized with the Camille Dreyfus Teacher-Scholar Award in 2011. The award recognizes and supports the research and teaching careers of talented young faculty in chemistry, and includes a research grant of $75,000. Aikens was one of only 13 chemists in the U.S. -- and the only in the Big 12 Conference -- to receive the award.
Also in 2011, Aikens was named among the 150 top scientists in the history of Kansas as part of the Ad Astra Kansas Initiative's "Science in Kansas: 150 Years and Counting," a yearlong celebration of the state's sesquicentennial.
Aikens earned a bachelor's degree from the University of Oklahoma in 2000 and a doctorate from Iowa State University in 2005. She was a postdoctoral research fellow at Northwestern University before joining K-State in 2007. She was promoted to associate professor in 2012.
Aikens can be reached at 785-532-0954 or cmaikens@k-state.edu.