K-STATE TRADITIONS IN ACADEMIC DRESS DATE BACK TO TURN OF 20TH CENTURY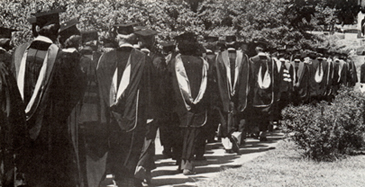 At official ceremonies in the world of academics, what one wears speaks volumes, according to a K-State expert on academic dress.
The kind of gown, the cap and the colors identify not only academic expertise, but pay heed to the generations of scholars who have gone before, said Stephen Wolgast, K-State instructor of journalism. Wolgast is a Fellow of the Burgon Society, a British group founded in 2000 that aims to coordinate the study of academic dress and preserve its historical details.
Wolgast said that traditions of academic dress date back to the 12th-century Europe.
"When the Americas were colonized by Great Britain, old-world fashion arrived," he said. "By 1755 black gowns were required for students at Princeton."
As America grew, so did its number of universities, with each adopting its own traditions in academic dress. By the 1890s a push came for standardization, which resulted in the uniform traditions used across the U.S. today, Wolgast said.
At K-State, the tradition of academic dress dates back to the early 20th century -- though the custom wasn't readily adopted. According to documents from K-State's archives, students began "agitating" for it as early as 1902 but weren't allowed to adopt caps and gowns for commencement until 1910.
After students adopted the tradition, they began petitioning faculty to do the same. The faculty fought the prospect, arguing that the college was not a classical school. Faculty finally adopted the custom in 1926.
"Just before the turn of the 20th century, students all over the country were pushing for democracy in education," Wolgast said. "They came to see caps and gowns as a way to promote equality, because no matter how fancy or threadbare your clothes were, you all looked the same on graduation day.
"K-State wasn't the only place where faculty members were opposed to the change. Professors at Stanford and Yale didn't wear gowns until years after their students did," he said.
Though most often worn during commencement ceremonies, academic regalia also are worn at other official ceremonies, such as inaugurations. Each piece of the outfit represents either academic discipline or degree of mastery earned.
At the inauguration of K-State President Kirk Schulz at 2 p.m. Thursday, Sept. 24, in Bramlage Coliseum, a colorful variety of regalia will be on display. What faculty taking part in the ceremony wear will signify where they graduated from, the type of degree held and the academic discipline of their highest degree.
For example, Schulz earned his doctorate in engineering from Virginia Tech University, where Ph.D. recipients wear a traditional American black gown with bell-shaped sleeves. Schulz's gown is trimmed with black velvet facing down the front and three velvet bars on the sleeves, which are also black. His hood is lined with Virginia Tech's school colors: maroon with an orange chevron. The bindings on Schulz's hood are five-inches wide and in dark blue velvet, which indicates that the wearer holds a doctorate. Schulz also will wear a doctor's tam with a tassel of gold.
For most U.S. graduates, including those at K-State, gowns are black and made of synthetic material or worsted wool. The gown's pattern varies with the degree earned: open sleeves for bachelor's degrees; long, closed sleeves with slits for the hands for the master's degree; and round, bell sleeves for doctorates. The bachelor's and master's gowns have no trimmings, while the doctoral gown is faced down the front with black velvet and three bars of velvet across the sleeves; the color of the velvet may be that of the faculty or subject to which the degree pertains.
At K-State, hoods are worn only by those who have a master's or doctorate, with the doctor's hood longer than the master's hood. K-State hoods are lined with purple and have two inverted white chevrons. The color and pattern of the lining varies across the nation, depending on the university represented.
The color of the trimmings on graduate-level gowns and hoods correspond with the subject matter of the degrees held. At K-State the degrees and colors include: Master of Arts -- white; Master of Accountancy -- tan brown, drab; Master of Architecture -- blue-violet; Master of Business Administration -- tan brown, drab; Master of Fine Arts -- brown; Master of Landscape Architecture -- brown; Master of Music -- pink; Master of Regional and Community Planning -- peacock blue; Master of Science -- yellow; Doctor of Education -- light blue; Doctor of Fine Arts -- brown; Doctor of Humane Letters -- crimson; Doctor of Letters -- white; Doctor of Philosophy -- dark blue; Doctor of Science -- golden yellow; and Doctor of Veterinary Medicine -- gray.
These representations are generally consistent among all U.S. institutions, according to Wolgast.
On their heads, recipients of a bachelor's or a master's wear a black mortarboard, with their tassel designating the area of study or the major. Doctors wear a soft velvet tam with either six or eight sides. At K-State, for example, the tams of Doctors of Veterinary Medicine are black, while those of Doctors of Philosophy may be either black or dark blue. The tassel for both is gold.
"When students and faculty put on their academic dress, they're not just wearing fancy clothes on a special day," Wolgast said. "They're showing solidarity with centuries of scholars, researchers and professors who are all part of the Western academic tradition."
More information about K-State's upcoming presidential inauguration is available at:
http://www.k-state.edu/president/inauguration/