BUILDING FOR K-STATE'S SCHOOL OF LEADERSHIP STUDIES HAS MADE PROGRESS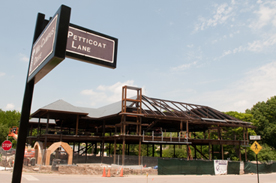 The soon-to-be new home of K-State's School of Leadership Studies has made considerable progress this summer. The building's steel structure is up, concrete floors have been poured, the roof is on and work on the exterior has begun.
The $11 million building, just north of King Hall and east of Shellenberger Hall, will consolidate all leadership studies programs into one location on campus. In addition, it will be a LEED -- or Leadership in Energy and Environmental Design -- certified building.
"This will be an extraordinary asset not only to leadership studies but to the whole campus," said Mary Hale Tolar, the school's director. "With this building, we are improving significantly the support we offer our students to develop and exercise leadership now and in their future as citizens and professionals."
The 36,000 square-foot building will include a 210-seat lecture hall; three seminar style classrooms; mid-size classrooms seating 50-60 students each; an academic advising center; and faculty offices. The School of Leadership Studies is expected to move into its new home in January 2010.