PLAUDITS
SOCIOLOGY PROFESSOR RECEIVES APPOINTMENT TO NATIONAL RESEARCH COUNCIL COMMITTEE ON THE ECONOMIC AND ENVIRONMENTAL IMPACTS OF BIOFUELS
Theresa Selfa, assistant professor of sociology, will serve on a National Research Council committee studying the economic and environmental impacts of increasing biofuels production.
Selfa will join approximately 15 other experts from across the country to examine the Renewable Fuels Standard, biofuel tax and tariff policy, and production costs on biofuel and petroleum refining capacity. The committee will look at current and future biofuels that are projected to be used by 2022 under different policy scenarios. The study, which was called for by the U.S. Congress, also will examine the effect of biofuels production on the number of U.S. acres used for crops and forestry, and the associated changes in the price of rural and suburban land.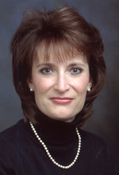 HARTMAN NAMED K-STATE'S DIRECTOR OF COMMUNITY RELATIONS AND ASSISTANT TO THE PRESIDENT
Jackie Hartman, a K-State graduate and former president of K-State's Alumni Association, has been appointed director of community relations and assistant to the president at K-State.
Hartman will report directly to the president and serve as a member of the president's cabinet. She will lead and coordinate community affairs for K-State, representing the president's office on issues related to the city of Manhattan and Riley County economic development initiatives.
She will begin work on campus effective July 1.
MORCOS AND BARKLEY CHOSEN AS RECIPIENTS OF THE PROMOTING AN ACCESSIBLE CAMPUS AWARDS
The disability support services office, in partnership with K-State For All!, has given the inaugural Promoting An Accessible Campus awards.
This year's winners are Sharon Morcos, instructor in human nutrition, and Mary Ellen Barkley from career and employment services.
These honors will be given out annually during K-State For All! Week, and go to one faculty and one staff member. The winners were chosen by committee based on their impact to the campus community.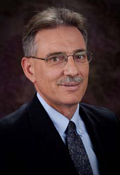 SMITH SELECTED AS BELL TOWER OF FAME RECIPIENT
John Smith, professor of animal sciences and industry, was recently selected as the 2010 Bell Tower of Fame Award recipient.
The award is given to individuals who have been Greene County, Iowa, residents at some time and are honored for their personal and/or professional accomplishments that have state, national or international significance.
Smith was recognized for his achievements as an outstanding dairy industry educator and researcher at K-State.