OH, BY THE WAY...
K-STATE LIBRARIES SEEKING NOMINATIONS FOR THE HOBROCK AWARD
K-State Libraries are seeking nominations for the sixth annual Brice G. Hobrock Distinguished Faculty Award. The award, sponsored by Friends of K-State Libraries, recognizes outstanding librarianship and superior accomplishments among the libraries' faculty.
Nominations are due by Friday, Feb. 12, and can made by filling out the form found at http://www.lib.k-state.edu/geninfo/hobrock/hobrock_award.shtml
Nominees will be evaluated based on their professional activities during the last two academic years. Those eligible for the award are tenured or pre-tenured faculty holding a minimum 0.5 appointment in the libraries, at the rank of assistant professor, associate professor or professor. They also must have held a minimum two-year continuous appointment in the libraries, and have not received the Hobrock Award in the past five years.
To check to see if your librarian is eligible at, go to http://www.lib.k-state.edu/geninfo/hobrock/eligible.html
Questions also may be directed to the 2009-2010 selection committee at Hobrock-Award@k-state.edu
SMITH TO PRESENT A LARSON LECTURE ON MEXICAN IMMIGRATION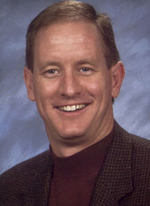 Jeffrey S. Smith, associate professor of cultural geography at K-State, will present the spring semester's first Vernon Larson International Luncheon Lecture, "Three Types of Migrants Out of Rural Mexico," at 12:20 p.m. Tuesday, Feb. 16.
The lecture, which is free and open to the public, will be preceded by a luncheon at 11:45 a.m. Both events will be at the Holiday Inn at 17th Street and Anderson Avenue. The luncheon costs $15 and reservations, which are required, may be made by Friday, Feb. 12, at 532-5990.
Smith will discuss the history of legal and undocumented immigration in the United States and what motivates most immigrants to leave rural Mexico for the U.S. He'll focus on the lives of three men and their families from Zacatecas, who are representative examples of the larger migration phenomenon. A question-and-answer session will follow the lecture.
Smith's research focus is on the geographical patterns of attachment to place/sense of community, the results of cultural interaction and change in the landscape and the concept of culture regions. Much of Smith's work centers on the greater U.S.-Mexico borderlands.
K-State's Vernon Larson International Luncheon Lecture Series was started in 1979 and is named for Vernon C. Larson, former director of international agriculture programs at K-State.
DIGITAL HUMANITIES EXPERT TO DEMYSTIFY WIKIS, BLOGS AND OTHER WAYS TO ENGAGE STUDENTS
Leigh Grinstead, a principal in the Bibliographic Research Center in Denver, Colo., will present "Leading Edge Education: Is There an App for That?" at 9 a.m. Tuesday, Feb. 9, in Hale Library's Hemisphere Room.
Grinstead specializes in using new technology to reach students, colleagues and communities and will walk workshop participants through wikis, blogs and other new concepts that can be used to reach students effectively.
A question-and-answer session will follow the presentation. She also will provide a link to her presentation and a chance to continue the discussion online.
This workshop is sponsored by a grant from the National Endowment for the Humanities and the K-State's Chapman Center for Rural Studies.
For more information, contact Bonnie-Lynn Sherow, associate professor of history, at 785-532-0778 or blynn@k-state.edu
DEADLINE APPROACHES FOR NEW INTERNATIONAL INCENTIVE GRANTS PROGRAM
To promote the internationalization of K-State, a new grant program has been launched by the office of international programs and office of the provost.
The International Incentive Grants program provides opportunities for faculty and staff across the university to promote internationalization through the development of study-abroad programs, incorporation of international perspectives into the curricula, research collaboration with colleagues in other countries, presentations at international conferences and other related areas.
Though grant funds will be available on a continuing basis, the program expects to award $20,000 in summer 2010, $15,000 in fall 2010 and $15,000 in spring 2011. It is anticipated that most of the individual grants will be for between $1,000 and $3,000.
Additional details and an application form are available at http://www.k-state.edu/oip/grants/index.html