OH, BY THE WAY...
K-STATE DOCUMENTARY ON THE HARDSHIPS OF RESERVE DEPLOYMENT AIRING ON KANSAS PUBLIC TELEVISION STATIONS IN DECEMBER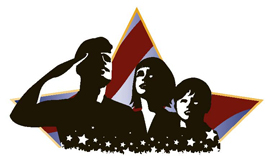 A new K-State documentary that captures how deployment affects the families of military reservists will air on public television stations in Topeka and Wichita starting Dec. 17.
"On Our Behalf: Supporting Guard and Reserve Families" looks at how deployment affects the families of reservists who have been activated in support of U.S. military operations in Iraq, Afghanistan, Kosovo and other countries. The film, about the sacrifices of citizen soldiers' families, is the first project from K-State's new Institute for the Health and Security of Military Families.
The documentary will air on KPTS in Wichita at 7:30 p.m. Thursday, Dec. 17; 12:30 p.m. Saturday, Dec. 26; and 10 a.m. Sunday, Dec. 27. It also will air on KTWU in Topeka at 2 p.m. Sunday, Dec. 27, and 9:30 p.m. Monday, Dec. 28. The Bunker Hill PBS station broadcast the film on Veterans Day.
The video also can be viewed on the institute's Web site: http://militaryfamilies.k-state.edu/programs/videos/on-our-behalf.php