PLAUDITS
MANER HEADING TO VIENNA AS A FULBRIGHT SCHOLAR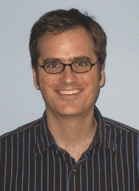 Brent Maner, an associate professor of history at K-State, will spend most of the spring semester at a prestigious research center in Vienna as a Fulbright scholar.
Maner will be a senior visiting fellow at the International Research Center for the Cultural Sciences in Vienna from March through June. The U.S. and Austrian governments are jointly funding his Fulbright grant.
"The center supports several scholars each semester from Austria and around the world. It holds a regular research colloquium, which I will participate in, and encourages fellows to establish connections to scholars in Vienna," Maner said.
Maner, who is on sabbatical leave from K-State for the 2009-2010 school year, spent much of fall 2009 working in Berlin and Frankfurt, Germany, on his research project, "Cities of Speculation: Cultural Representations of the Vienna, Berlin and Frankfurt Stock Exchanges from 1866 to 1933." He also will work on the project while in Vienna.
Maner also plans to read novels and impressionistic essays from the time period that featured bankers, brokers and stock market speculators in their story lines. He said he would like to develop an undergraduate course about the history of European cities, including Vienna.
The Fulbright Program is the flagship international educational exchange program sponsored by the U.S. government and is designed to increase mutual understanding between the people of the United States and the people of other countries. The program sends approximately 1,100 American scholars and professionals each year to around 125 countries, where they lecture and/or conduct research in a wide variety of academic and professional fields.
SCHULZ TO HEAD ELECTRICAL POWER PROGRAM
Noel Schulz, Paslay professor of electrical and computer engineering, has been named director of K-State's Electrical Power Affiliates Program, which connects graduate and undergraduate student research projects directly to the needs of power affiliate members.
Currently Westar Energy, Burns and McDonnell, Nebraska Public Power District and Omaha Public Power District are directly involved in the guidance and advisory capacities of specific research projects of interest through their participation in the Electrical Power Affiliates Program. Their financial investments fund undergraduate stipends as well as undergraduate senior and graduate project sponsorships related to the research projects. The program also extends opportunities for internships and future employment opportunities in the power field.
Now in its second year, the program was established under the directorship of Don Gruenbacher, associate professor and head of K-State's department of electrical and computer engineering. There are currently 10 ongoing research projects funded by the power affiliates.
Schulz is a nationally recognized expert in power systems engineering, researching use of computers, including intelligent systems, to solve problems in power system design, operations and controls. Her research has been funded by a variety of agencies, including the National Science Foundation and the U.S. departments of Defense, Energy and Homeland Security.
In November 2009 she was elected to lead the Institute of Electrical and Electronics Engineers Power and Energy Society, a worldwide, nonprofit association of more than 24,000 individuals engaged in the electric power energy industry.
Schulz came to K-State in 2009 with her husband, K-State President Kirk Schulz, from Mississippi State University, where she held an endowed professorship as the Tennessee Valley Authority Professor in power systems engineering.