OH, BY THE WAY...
K-STATE'S VISITING WRITERS SERIES TO FEATURE AUTHOR ROBERT DAY NOV. 19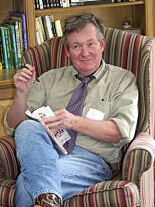 Author Robert Day will read from his Kansas-based works as part of K-State's Visiting Writers Series at 4 p.m. Thursday, Nov. 19, in Hale Library's Hemisphere Room.
Day is best known for his 1977 novel "The Last Cattle Drive," a Kansas tale that has been compared to Mark Twain's "The Adventures of Huckleberry Finn."
Day's "The Last Cattle Drive" was a Book-of-the-Month Club selection and has been reprinted in a 30th anniversary edition. Day also has published several novellas and a collection of short stories, "Speaking French in Kansas," in addition to a number of poems and essays.
A reception and book signing will follow the reading from 5:30-7:30 p.m. at the Strecker-Nelson Gallery, 406 1/2 Poyntz Ave., downtown Manhattan.
Day has a bachelor's and a master's from the University of Kansas. He presently teaches English at Washington College in Chestertown, Md.
Additional information on the series is available at: http://www.k-state.edu/english/visit.html
K-STATE BRINGS HOME MAJORITY OF REGIONAL AWARDS FROM UNIVERSITY CONTINUING EDUCATION ASSOCIATION
K-State has received its largest number of Great Plains Region Awards from the University Continuing Education Association in a given year. Five awards were presented to K-State at the joint 2009 Mid-America/Great Plains Conference Oct. 29 in La Crosse, Wis.
The association's Great Plains Region judges submissions from higher education institutions throughout Kansas, Colorado, Nebraska, Oklahoma, North Dakota, South Dakota and Wyoming, with K-State taking home honors in a majority of the nine award categories.
The following K-State programs, faculty, staff and technologies received 2009 Great Plains Region Awards:
* The K-State Sustainability Conference received the Outstanding Non-Credit Program Award. The conference, an annual event that debuted in January 2009, creates awareness of the diverse sustainability needs of Kansas, including sustainability research, public sustainability education, land and water use, and energy.
* ELATEwiki, a technology that recently also won the Effective Practice Award from the Sloan Consortium, received the Innovations and Contributions Award. ELATEwiki is a collaborative Web site intended to allow students and faculty members to post, share, enhance and interact using a dynamic and evolving information exchange.
* A. David Stewart, assistant dean of program development and marketing in K-State's Division of Continuing Education, received the John L. Christopher Outstanding Leadership Award. Stewart has served as assistant dean for 13 years and as a University Continuing Education Association officer at the regional level for five years.
* Royce Ann Collins, assistant professor of educational leadership in the K-State College of Education, received the Research and Scholarship in Adult and Continuing Education Award. Collins has contributed publications, presentations, and research in continuing education fields such as adults in higher education, faculty development and online learning.
* Leonard Leeling, duplication and mail center manager in the K-State Division of Continuing Education's public information office, received the Outstanding Support Specialist Award. Leeling manages and implements technologies and software that increase the division's efficiencies and services.
To learn more about K-State's award-winning distance education offerings, contact the Division of Continuing Education at 1-800-622-2578 or informationdce@k-state.edu. More information also is available online at http://www.dce.k-state.edu/courses/degrees
FAIR TRADE MARKETPLACE BRINGING A WORLD OF SHOPPING TO THE K-STATE STUDENT UNION NOV. 18 and 19
A special marketplace at K-State will offer shoppers a chance to get a head start on their holiday shopping and improve the lives of artisans from around the world.
The fourth annual K-State Fair Trade Marketplace will be 10 a.m. to 7 p.m. Wednesday, Nov. 18, and Thursday, Nov. 19, in the courtyard at the K-State Student Union. The marketplace, which is open to the public, is sponsored by UFM Community Learning Center and K-State Fair Trade Advocates. It features quality products from impoverished countries. Items available will include handmade jewelry, clothing, coffee, greeting cards, handbags, home decor and more.
Event organizers said fair trade makes it possible for disadvantaged workers and producers from around the world to earn fair wages by selling their products at marketplaces like the one upcoming at K-State adding that worldwide, approximately 2.7 billion people live on less than $2 a day.
More information on the K-State Fair Trade Marketplace is available at http://www.tryufm.org