The road to recovery
Facilities crews and a fleet of contractors keep up pressure on tornado repairs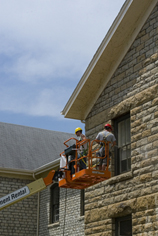 Ask Ed Heptig, director of facilities maintenance, what his No. 1 priority is for undoing the damage of the June 11 tornado and he has a simple answer: "To have everything ready by the time school starts."
That big picture contains lots of moving parts, starting with power-washing of many exteriors. In late June Heptig said that insurance adjusters were assessing all buildings for power washing to clean off insulation that blew in from structures destroyed elsewhere in town.
"We did the direct-line path first," Heptig said, though the washing naturally had to wait until broken windows were reglazed.
Heptig has been hiring other contractors as projects gained approval to restore those buildings hardest hit: Weber, Ward, Bushnell, Cardwell and the engineering complex of Durland, Fiedler and Rathbone.
At Ward Hall, high winds ripped siding from the octagonal structure that houses the nuclear reactor, "but the reactor itself is unaffected, I must make that clear," Heptig said.
One general contractor is handling the work in the engineering complex; another is tackling Cardwell and Bushnell, which may have broken rafters in addition to its roof and window deficiencies; and a third has responsibility for the many subcontractors at Weber Hall.
The university won't know the total repair tab for weeks, but Heptig is awash in bids and bills: $5,000 to fix one Weber Hall air-conditioning unit, for example, and $250,000 to replace two others.
"That just gets them set back up there," he said; the price doesn't include adjustments and ductwork to get them back in service.
In addition to such substantial damage, "We have probably 20 or 22 other buildings that have broken glass or some kind of damage throughout."
Many smaller contracts have been approved for Sheetrock work, roofing and reglazing of windows pierced but not shattered by gravel whisked from rooftops. "We'll find more of this BB gun kind of damage as we assess," Heptig said.
He and his crews have been impressed but not surprised by the storm's violence.
"Our initial look was 12:30 a.m. the night of tornado," he said. "We did a lot of reviews through the darkness, and we reviewed all day Thursday.
"I think just the magnitude of the damage and the clean-up was unbelievable. What is often overlooked is the number of trees that were damaged and have been sawn down or heavily trimmed."
Two testaments to the power of a tornado come to mind.
"The AC unit hanging off Weber Hall, it measures 10 by 10 by 40 feet and weighs probably 10,000 to 20,000 pounds. It was carried 20 feet in the air before it touched down, judging from skid marks.
"That was impressive."
Another example was the 40- by 40-foot section of arched roof between Fiedler and Rathbone, which the tornado plucked up and twirled before dropping it.
"But more impressive was that the roofers were able to pick it up, rotate it back into position and seal it up for a temporary fix."
Photo: Workers power-wash Seaton Court as part of the post-tornado cleanup. Insulation from damaged buildings ended up plastered onto roofs and walls all across campus.