Open invitation to campus
This year's All-University Open House connects with spring game
The annual All-University Open House once again is offering visitors the chance to see what life is like on the K-State campuses in Manhattan and Salina.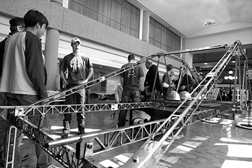 Exhibits, entertainment and tours demonstrate not only what K-Staters are learning, but also what the university's many colleges have to offer future students. It will take place from 9 a.m. to 2 p.m. Saturday, April 19.
Open house answers questions about admissions, student financial assistance, on-campus or Greek living, and campus life, including K-State's nearly 450 student organizations. Open house will have information specifically for transfer students, students from military families, minority students and out-of-state students.
Each K-State college has demonstrations, games and food, and faculty and students will answer questions about the more than 250 majors at the university. To help prospective students, a free online career assessment will be given each hour beginning at 10 a.m. in 14 Holton Hall.
Walking tours, given each half hour, will include a 1 p.m. tour in English and Spanish. Shuttles run every 15 minutes from the Union to sites across campus, including the Peters Recreation Complex, residence halls and Hale Library, the centerpiece of K-State's Manhattan campus.
For K-State's youngest visitors, open house includes children's activities like the exotic animals booth and the stuffed animal clinic in Mosier Hall and a moon walk near the engineering complex. A balloon-animal artist will stroll through campus.
Entertainment for people of all ages includes music on Bosco Plaza, the Kansas City Marching Cobras drill team, and the spring football game Saturday evening, as well as carnival rides outside the Bill Snyder Family Stadium. (For more information, visit http://www.kstatesports.com/)
At open house, there's always plenty to eat, including pancake feeds, goodies made by students in bakery science and management, pork sandwiches from the Swine Practitioners Club and healthful snacks from students in K-State's consumer sciences education program.
A complete list of events is at http://consider.k-state.edu/openhouse/
Photo: Building bridges to future K-Staters is a goal of open house. Civil engineering students explained their national contest entry to onlookers in 2007. Photo by Dan Donnert, Photo Services.