Professor lends expertise to Kabul
It's unusual to think of a K-State professor wanting to teach at KU, but perhaps it's even more unusual when KU stands for Kabul University in Afghanistan.
A faculty member in the College of Veterinary Medicine recently returned from KU, where he helped train faculty and students in veterinary science.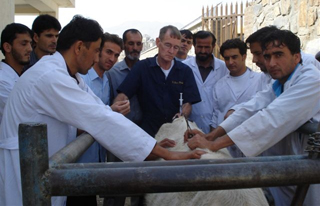 David Hodgson, associate professor in anesthesiology, left June 20 and returned Nov. 16, using a grant through the United States Agency for International Development. During that period, he e-mailed weekly updates to the staff and educated readers about the many challenges he faced.
"My main goal was to try to make a difference every day," he said. "I worked diligently to try and help their veterinary students develop skills to make a diagnosis rather than treating the first symptom they see without further consideration."
Some of the challenges were due to a shortage of drugs, supplies and equipment. Hodgson also overcame cultural differences, language barriers and issues of personal safety and security due to Taliban activity around Kabul. In the veterinary clinic, Hodgson assisted in the treatment of feral dogs, sheep, cattle, horses and cats.
Upon hearing about the shortage of supplies, K-State faculty, staff and donors sent items to him in Afghanistan. Hodgson related his discovery of these donations in a message in August.
"I received a box of various supplies from K-State today," he wrote. "It was almost like opening a Christmas present when I was a child. I am thankful to now have gauze to tie in an endotracheal tube, caps for the IV catheters that we have never used and a box of adhesive tape. These are a major step forward for the KU clinic. I will now train faculty and students to place an IV catheter properly. Until this time we have had only one roll of adhesive tape. The items provided by K-State make a big difference in our potential activities."
The College of Veterinary Medicine threw a "welcome back" party for Hodgson when he returned. He expressed his gratitude for the supplies, support and encouragement during his time in Afghanistan and then presented a slide show to demonstrate the conditions at KU.
Although he's glad to be home, Hodgson said he may consider returning to KU next spring or summer through the USAID program.
"I tried to lay the foundation for sustained progress and improvement in the KU clinic and in the Faculty of Veterinary Science," Hodgson said. "I hope I stimulated a dream for the future that is not going back to the 'way it was' before the wars, but to become something much better.
"Sustainability and building capacity are important concepts that I embrace, but the delivery and long-term realization of these goals will take continued effort by many people from outside Afghanistan. Kabul University needs our support for years to come."
Photo: Dave Hodgson (center), associate professor of anesthesiology in the College of Veterinary Medicine, teaches a group of Kabul University veterinary medicine students how to give a cow an epidural. Hodgson spent five months in Afghanistan working at Kabul University as part of a USAID grant.