'Myth buster' for Indians
Leslie Hannah seeks to educate Americans about native culture
Leslie Hannah, an assistant professor of English at Kansas State University at Salina, is on a mission to change the way the world sees American Indians.
Hannah, a Cherokee, is originally from Tahlequah, Okla., home of the headquarters of the Cherokee Nation. Addressing groups about his Cherokee heritage and dispelling many misunderstandings about American Indian culture have made Hannah into what he considers a "myth buster."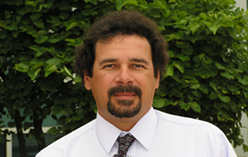 "I hate being stereotyped," Hannah, pictured at left, said, "and I think you would be shocked to know how many people know only stereotypes about Indians. America knows very little about its indigenous peoples, and generally what the nonnative world does know about Native Americans is wrong. What Americans know about American Indians generally comes from movies."
Hannah has spent many years speaking both formally and informally to groups of all ages about Native American culture.
Visual aids are an important part of Hannah's presentations. He shows videos of actual powwows and brings authentic musical instruments for audiences to examine. In addition, his 4-year-old daughter, Lexi, sometimes accompanies her father, dressed in traditional Cherokee attire. Together, they demonstrate elements of Cherokee powwow dance.
"On an educational level, Lexi adds an immeasurable level of authenticity," Hannah said. "People see her as a real human being. She has no political agenda. Whereas I am often times accused of being almost militant in promoting my native culture and values, Lexi is not political; she's a child who happens to know she is Cherokee and that there is nothing wrong with that."
Hannah plans to continue speak to local and regional audiences. He has several appearances scheduled at Salina schools in the next several months, and the list of invitations continues to grow.
For more information about his presentations, e-mail Hannah at ldhannah@k-state.edu.