Alumni Center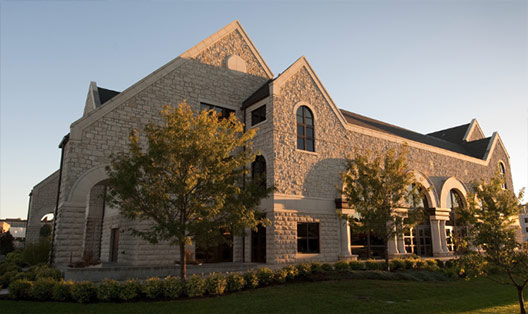 Show Alumni Center on campus map
Interactive campus map
At 52,000 square feet the K-State Alumni Center is an impressive gathering place for alumni and friends of Kansas State University. The building contains a banquet room for up to 440 people, nine conference rooms available for alumni and friends to rent and four smaller conference rooms free to alumni, university staff and students Monday through Friday 8 a.m. to 5 p.m. The building's more unusual features include a collection of Royal Purple yearbooks in the Hagans Library, an aquarium filled with purple sea life and K-State memorabilia throughout the building.
Building offices
History
The Alumni Center opened in October 2002, along Anderson Avenue just south of historic Memorial Stadium. Construction funding came entirely from more than 1,500 private donations, and 75 percent of the building is public space.
The center is constructed of native Kansas limestone, and K-State artifacts are on display in the Memorabilia Room and throughout the building. The original 1859 arch from Bluemont College, K-State's forerunner, is incorporated into the Frasier Fireplace in the Tointon Great Room. The Hagans Library houses a collection of Royal Purple yearbooks and K-Stater magazines, along with videos used for student recruitment and athletics highlights.