Taking On the Leadership Challenge
A beloved retreat makes an incredible comeback
"Leadership Challenge is a high profile, intense leadership development opportunity that the school is able to offer students outside of the minor. It helps us achieve our mission in the broadest possible sense to the benefit of the entire K-State community." –Mary Tolar, Leadership Studies Director
After six years on hiatus, Leadership Challenge returned bigger and better than ever before. Leadership Challenge is a residential, leadership development retreat held in the spring at the Rock Springs 4-H Center in Junction City, KS. This year, 27 stu

dents participated in the high impact retreat during the beginning of March, learning about topics such as diversity, inclusion, leadership styles, service learning, StrengthsQuest and adaptive leadership. Students were encouraged to tackle controversial topics and learn more about themselves and others, "Right Here, Right Now," which was the theme of the four day, three night retreat.
"Participants were challenged to examine their identity and the diversity of others and how this can be used to enhance their leadership at K-State as part of a caring community to give back to the university," said J.R. Love, Leadership Challenge Coordinator.
The goals of Leadership Challenge include:
To understand the many facets of leadership
To enhance the knowledge of self
To increase the understanding of others and how that impacts the practice of leadership
To understand the value of diversity and the importance of inclusion
To identify opportunities and challenges for improving the K-State community
To strategize collaborative approaches to implement change at K-State
To have fun and develop new relationships
Similar to the structure of the LEAD 212: Introduction to Leadership Concepts class, students were divided into small groups (learning communities) for the entire retreat. Each learning community was facilitated by a group leader and students were continually encouraged to dive deeper into discussions.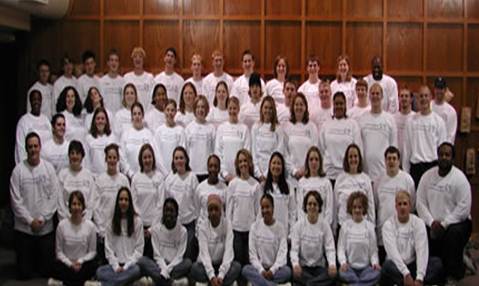 In addition to the learning communities, there were multiple guest speakers who shared life experiences with the students and inspired them to discover their own leadership styles. Guest speakers this year included: Dr. Gayle Spencer (Associate Dean of Student Life, KSU), Dr. David Griffin (Assistant Dean of Diversity, College of Education, KSU), Tamara Bauer (Instructor, School of Leadership Studies, KSU), Laura Tietjen (Adjunct Instructor, School of Leadership Studies, KSU), Mike Finnegan (Instructor, School of Leadership Studies, KSU), Mitchell Loeb (Student, KSU), John Hatfield (Assistant Director, Kansas Campus Compact) and Shalee Lehning (Assistant Women's Basketball Coach, KSU).
"Small group discussions after the guest speakers shared were incredibly powerful for the students," Love said. "Students were really looking to be pushed and challenged which is exactly what the guest speakers did during Leadership Challenge."
Due to the great success of Leadership Challenge this year, it will once again be an annual retreat for students. Leadership Studies faculty and staff are already preparing for another great retreat as they look forward to Leadership Challenge 2013.
Interested in learning more about Leadership Challenge 2013 or supporting this program? Click here!
Or contact J.R. Love at jrlove51@ksu.edu or 785-532-6085.

Leadership Challenge 2012