International Service Teams Send-Off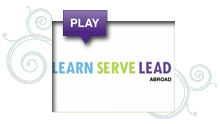 This summer, five teams will be making their way across the world to engage in service learning projects. Each team has put forth much time and effort by learning about the cultures and fundraising for ther trips which they will embark on in a matter of weeks. International Service Team (IST) students implement their service projects during an eight to ten week stay in their international country. Service team members not only gain leadership experience, but they also develop an appreciation for unique cultures and perspectives. This year, IST paired with the sociology department to help create a faculty-led Uganda research trip. They are the first team to incorporate research into an IST trip, which will hopefully result in the expansion of the IST program to provide future Kansas State students real-world research experience.
Team Paz (South Africa):

Team members will be working with Volunteer Mzansi and helping with program development.

Kaitlyn Burton (Junior, Accounting), Tricia Brensing (Senior, Communication Sciences and Disorders), Kaitlyn Rippel (Sophomore, Arts and Sciences) and Sydney Webb (Freshman, Pre-Psychology)
Team Fikira (Kenya):

Team members will be working with CYEC doing youth development and helping with financial literacy.

Kelsey Ritz (Sophomore, Social Work), Teryn Greer (Junior, Family Studies), Taran Carlisle (Junior, Kinesiology) and Stevie St. Clair (Junior, Family Studies)

Team Sonrisa (Mexico):

Team members will be living in home stays and focusing on teaching the English language and working on implementing recycling programs.

Isaac Falcon-Campos (Graduate Masters), Rachel McAdam (Senior, Psychology), Emily Stolfus (Sophomore, Elementary Education) and Ronnie Sullivan (Freshman, Agribusiness)

Team Ubuntu (South Africa):

Team members will be working with Volunteer Mzansi and serving in a school for children with special needs, working as nursing aids and serving in an art center.

Carolyn Gatewood (Senior, Education-English), Lindsy Ligget (Senior, Communication Studies), Lindsay Albracht (Sophomore, Family Studies), Stephanie Wilson (Senior, Public Health Nutrition) and Sarah Kahm (Freshman, Chemical Engineering)

Uganda Team (Faculty-led trip with sociology department):

Team members will be doing research on the LRA of Joseph Kony.

David Westfall (Faculty leader), Chase Fortune (Junior, Journalism and Mass Communications), Grant Kohlmeier (Junior, History), Corinne Christopherson (Senior, Life Sciences), Anna Clary (Senior, Horticulture), Maggie Burger (Senior, Anthropology) and Danielle Crossland (Senior, Social Work)

Want to find out how YOU can help? Visit the Uganda 2013 Research Team page to learn more and contribute to their campaign!
What experience are you most looking forward to during your international trip?
"I've always been passionate about service, especially international service. IST couldn't have been more perfect! I'm really looking forward to getting to know all the kids at PRAY orphanage and building relationships. Four of my top five strengths are in relationship-building, which I'm sure will be very helpful!"
-Sydney Webb, Team Paz (Brazil)
"My passion for learning about and serving humanity has inspired me to join International Service Teams so I can make a difference in another culture. Above all else, I am most looking forward to adapting to a new environment and educating myself about a new culture. I wish to learn how to serve the needs of the CYEC (Children and Youth Empowerment Centre) in the most altruistic way possible!"
-Stevie St. Clair, Team Fikira (Kenya)