The LOOP
Please enjoy our newsletter to keep you in The Loop with all that is happening within the Mary Lynn and Warren Staley School of Leadership Studies.
Download the newsletter (PDF)
Director's Note
What is a legacy? We at the Staley School of Leadership Studies have spent a lot of time thinking about this question and exploring the connection between legacy and leadership. As we reflect on the many ways we're moving forward together—a few of which we invite you to read about in this edition of The Loop—we are inspired to think about what legacy means to us. Legacies can be large or small; they are imbedded within systems and cultures; they evolve based on contextual forces; and they have the power to inspire present action based on tomorrow's promise.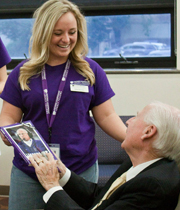 Snyder Leadership Legacy Fellows
This January, the Staley School of Leadership Studies eagerly announced the Snyder Leadership Legacy Fellows program, a leadership development program in honor of K-State head football coach Bill Snyder. Since the program was announced, much has happened. On May 27, the Snyder Leadership Legacy Fellows program kicked off with a two-day event, during which 37 students entering their final year at K-State were welcomed into the inaugural class of Snyder Fellows.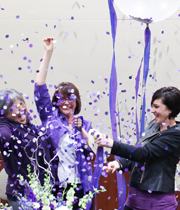 Celebrating Service & Leadership 2015

Each year at Celebrating Service and Leadership, the Staley School strives to recognize and honor individuals who have demonstrated exceptional service, leadership, and civic engagement at K-State, in the Manhattan community, and beyond.
The K-State First program and the Staley School of Leadership Studies have fostered a unique partnership through the formation of several Connecting Across Topics (CAT) Communities. The two programs share similar values and goals for students at K-State: focusing on high academic expectations, fostering collaboration and community, respecting a diverse range of people, and empowering students through a strong sense of personal responsibility and agency.
A letter from Staley School faculty member, Marcia Hornung.