Manhattan Good Neighbors (MGN)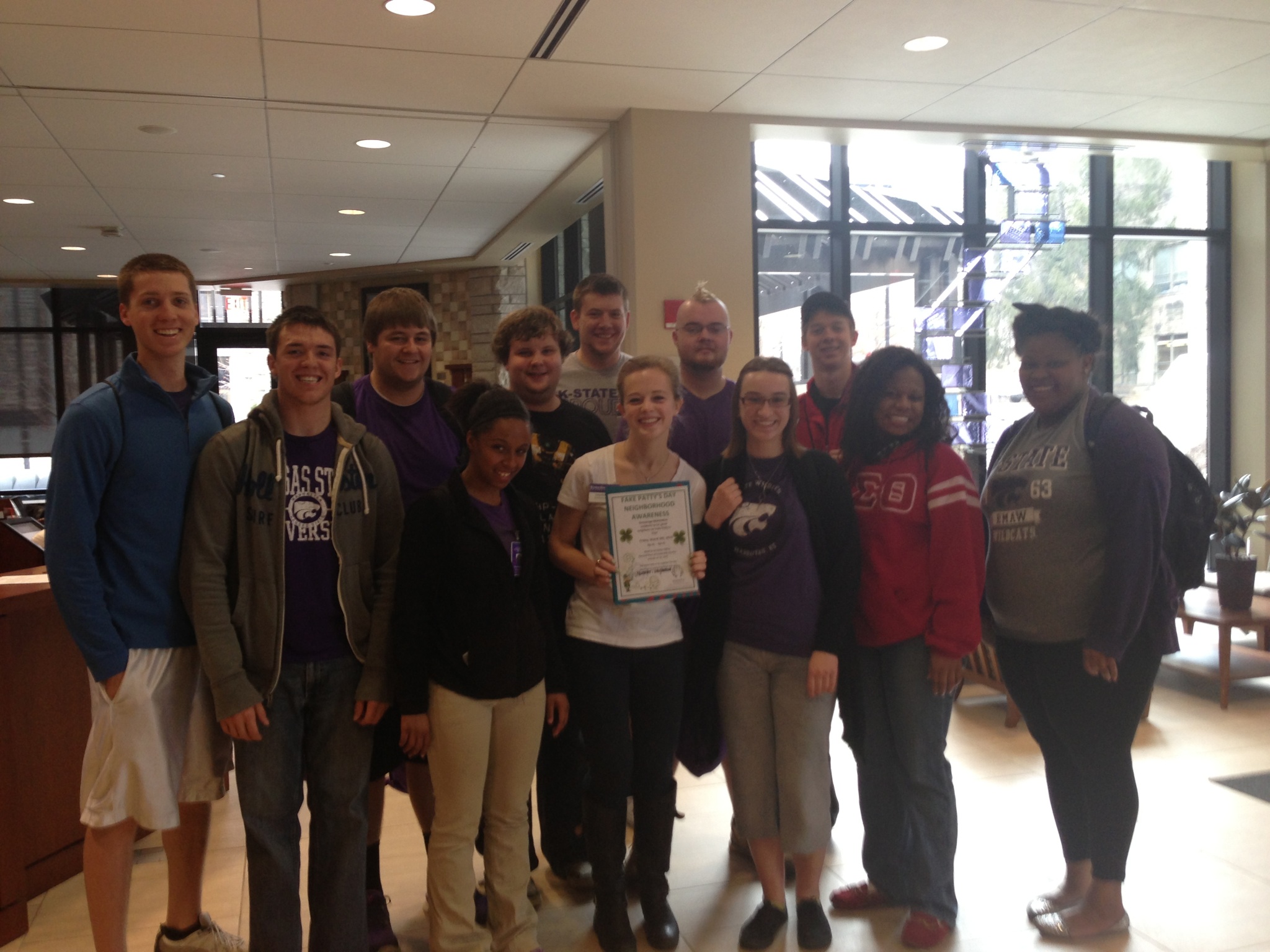 Manhattan Good Neighbors (MGN) is a student program designed specifically to focus on fostering development with neighborhoods surrounding the K-State campus. MGN provides opportunities for students and permanent residents to build and maintain positive relationships through direct service opportunities, ranging from neighborhood clean-ups and community service projects to disaster preparedness trainings and voter registration initiatives.

MGN also leads the Manhattan Good Neighbors Task Force, a joint venture with the City of Manhattan which was formed to address community challenges like ensuring a clean, safe, and welcoming residential environment for all K-State and Manhattan residents. Task force partners include the City of Manhattan, Kansas State University, Manhattan Landlords Association, Riley County Police Department, Coalition of Neighborhood Associations, USD 383, Manhattan Area Chamber of Commerce, Manhattan Housing Authority and others in the community.
Upcoming Events
Senior Assistance Volunteers Needed
Manhattan Good Neighbors is looking for volunteers throughout the rest of winter who are willing to help with Senior Assistance. Volunteers will assist senior citizens around the Manhattan area with tasks such as raking leaves, cleaning gutters, and other yard work, along with snow removal during the winter months. For more information or to sign up, contact: mgn@k-state.edu.

Fake Patty's Day Clean Up
Manhattan Good Neighbors is hosting their annual Fake Patty's Day Clean Up on Sunday, March 8, the day following Fake Patty's Day from 10 am to 12 pm. Volunteers will clean up surrounding neighborhoods in the Manhattan area in an effort to help keep our community a safer, friendlier, and cleaner place to live. If you are interested in volunteering, please contact mgn@k-state.edu or sign up through this link: bit.ly/HOKS_signup
KSU Recycling for Fake Patty's Day

KSU Recycling staff and students have been recycling in Aggieville for the past 4 years DURING Fake St. Patty's Day. Volunteers are most needed at 4 pm to 2 am to help retrieve and sort recyclables from the bars in Aggieville. Sign up in a minimum of 2 hour shifts!
Why should you sign up?
It is FUN- what better way to spend part of your Fake Patty's Day than hanging out and recycling with all of your friends!

Is helps the ENVIRONMENT- any recycling we can divert from the landfill helps!
Follow the link to sign up for recycling in Aggieville on Saturday March 7:
https://docs.google.com/spreadsheets/d/1CKqTZVClDR7pQruFOGeoMB09efdLBf-EjBruzlmT_fU/edit?usp=sharing
Contact Us
If you are interested in being a neighborhood representative, volunteer, or a member of the Manhattan Good Neighbors Task Force, contact the Student Program Coordinators at mgn@k-state.edu.