Manhattan Good Neighbors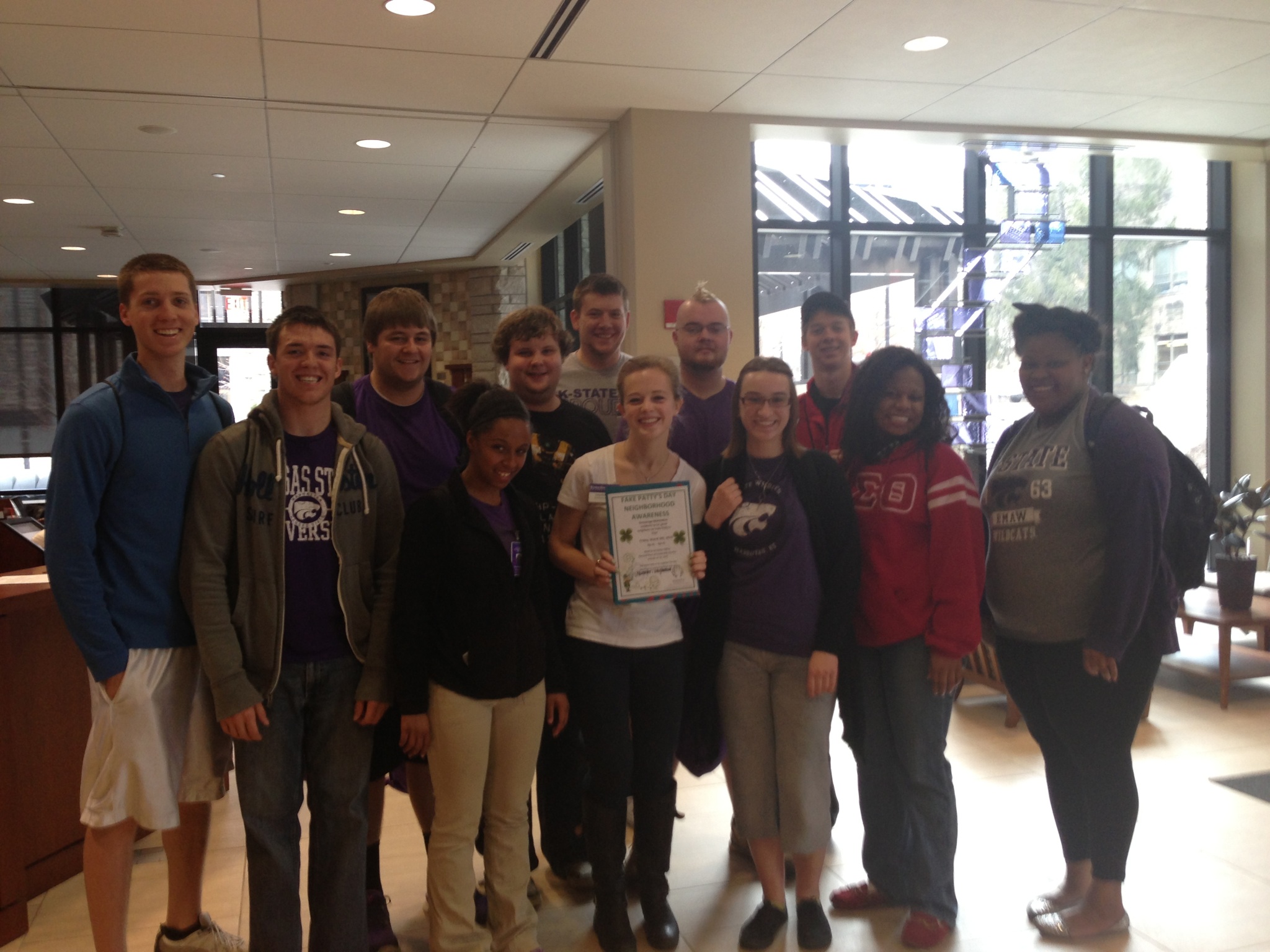 Manhattan Good Neighbors (MGN) is a student program designed specifically to focus on fostering development with neighborhoods surrounding the K-State campus. MGN provides opportunities for students and permanent residents to build and maintain positive relationships through direct service opportunities, ranging from neighborhood clean-ups and community service projects to disaster preparedness trainings and voter registration initiatives.

MGN also leads the Manhattan Good Neighbors Task Force, a joint venture with the City of Manhattan which was formed to address community challenges like ensuring a clean, safe, and welcoming residential environment for all K-State and Manhattan residents. Task force partners include the City of Manhattan, Kansas State University, Manhattan Landlords Association, Riley County Police Department, Coalition of Neighborhood Associations, USD 383, Manhattan Area Chamber of Commerce, Manhattan Housing Authority and others in the community.
Upcoming Events
Spring Furniture Amnesty Day to take place Friday, May 6th
HandsOn Kansas State, Manhattan Good Neighbors and the City of Manhattan are teaming up for a Spring Furniture Amnesty Day. Furniture Amnesty Day (FAD) is a community-wide event held during the summer. However, this year we are adding a second event in the Spring. Spring FAD will take place Friday, May 6th at the Baker Field Parking Lot in City Park. There will be no house pick ups, and only drop offs for this event. Community members are welcome to select furniture throughout the day. FAD's purpose is to reduce the amount of unwanted furniture by fostering an opportunity for neighbors to help neighbors. Instead disposing unwanted furniture improperly, citizens can recycle and reuse furniture to Manhattan residents and K-State students in need through this event.
As this event grows, the need for more volunteers grows as well. 15 volunteers are needed to help in the morning and 15 for the afternoon. The morning volunteers will be helping to process furniture, public sign ups, loading and unloading furniture, and traffic control of furniture drop offs. Afternoon volunteers will focus on processing the public in furniture selection and moving furniture for those needing assistance.
This all day event is a great corporate volunteer opportunity for those businesses in the greater Manhattan community to mobilize their employees to give back to those in need. Volunteers can sign up through the HandsOn Kansas State web sign up at: http://bit.ly/HOKS_signup. Fill in the Volunteer Information and select Furniture Amnesty Day. For more information or have any questions please email mgn@ksu.edu.
Senior Assistance Volunteers Needed
Volunteers will assist senior citizens around the Manhattan area with tasks such as raking leaves, cleaning gutters, and other yard work, along with snow removal during the winter months. For more information or to sign up, contact: mgn@k-state.edu.
Contact Us
If you are interested in being a neighborhood representative, volunteer, or a member of the Manhattan Good Neighbors Task Force, contact the Student Program Coordinators at mgn@k-state.edu.