President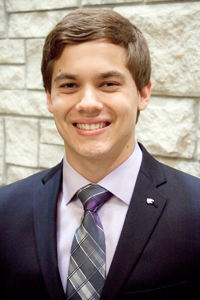 Grant Goodack
Email: goodack@ksu.edu
My Degree: I am majoring in Economics with minors in Business Administration and Leadership Studies.

Hometown: Olathe, KS
Campus and Community Involvement
I am also a Lead 212 Class Leader and an Assistant Coach for the Manhattan Cross Country Club.
Why Ambassadors?
The day that I visited to K-State my senior year, I went to the Leadership Studies booth. After talking to an ambassador, I could tell the passion that he, and everyone else, had for the school. After speaking with him, I knew that Leadership Studies was the place that I needed to be and it has been the best decision that I have made in my academic career. I firmly believe that the SLS ambassadors are a special group of students at K-State. I have never been around such a passionate, invested and intentional group of people that truly love and enjoy the work that they do for the organization and the School of Leadership Studies. I believe that it is a testament to the amazing job the "family" of SLS faculty has done in developing the school and its programs. I have learned a lot from the leadership classes that I have taken, but it is in my involvement with the school that I have been able to apply it and therefore learn even more about leadership and myself. I can honestly say I would not be where I am today, if it was not for my time with The School of Leadership Studies and my involvement with ambassadors.
Favorite SLS memory:
I have two: first giving a perspective student a tour of the building and sharing my personal experience with the School and its positive impact on me, and then finding out the next day that he was enrolling in the Lead 212 class because of his visit. Secondly, winning the inaugural karaoke competition at the SLS Christmas party!