Study Abroad
As part of our mission, "Developing knowledgeable, ethical, caring, inclusive leaders for a diverse and changing world," the Staley School of Leadership Studies thinks it's important for students to get to experience different parts of the world. That's why we offer several options for students to serve and/or study abroad.
Connecting Across Topics (CAT) Communities
Study Abroad CAT Communities provide a dynamic, global learning experience for K-State students at the start of their college experience. Like our other CAT Communities, a small group of students take a group of academic classes together, but they also have the chance to travel abroad together during their first year. This year, students have the opportunity to travel to Hong Kong during spring break.
Faculty-Led Study Abroad in Canada
Students have the opportunity to study abroad during the summer of 2017 in Canada with Staley School faculty member Leigh Fine, Ph.D. Students will travel to Quebec, Montreal, and Ottawa. The intent of the course is to assist students to become more interculturally effective. Students, regardless of their identity group, will be challenged to explore and discover their cultural identity from a values-based perspective. Students will explore strategies and skills necessary to analyze intercultural experiences, events, and dilemmas. The concept of power and privilege will be discussed as psychological constructs operating across all cultures and contexts. Exploring other cultures and learning to have fun doing so is also a part of the curriculum. Application deadline is February 1, 2017. Learn more about studying abroad in Canada.
Semester in Ecuador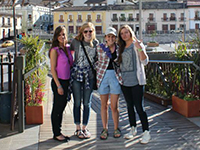 Earn leadership studies credits while studying abroad in Ecuador at Universidad San Francisco de Quito. Through this year-long program, students will take leadership studies courses at K-State in the fall then study at USFQ during the spring semester. Located in Cumbaya, USFQ hosts students from around the world. Students will work with USFQ and the Staley School to earn credits for LEAD 350: Culture and Context in Leadership and LEAD 405: Leadership in Practice through an engaged learning experience abroad.
International Teams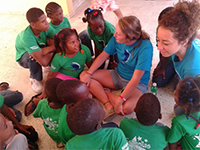 International Teams is a service-learning program of interdisciplinary teams of Kansas State University students. Teams travel and live in communities around the world during the summer break. International Teams work with community partners to engage in local community work abroad. Previous projects have focused on health, education, environmental and sustainability concerns, and youth development. Applications are due in the fall of each year. Learn more about travelling abroad with International Teams.