The Michael C. Holen Leader in Residence Award honors outstanding individuals who are exercising leadership in a range of organizational, professional and civic settings. Recipients come to campus to share experiences and engage in rich and challenging conversations with our students and the Kansas State University community. The award recipient exemplifies the Mary Lynn and Warren Staley School of Leadership Studies' mission statement and the following tenets:
Service to the common good is the goal of leadership.
Leadership is a process and is not defined simply by position or authority.
Collaboration is the primary method of teaching and developing leadership.
Successful leaders are committed to and have the ability to engage in leadership with those of other backgrounds and cultures.
Originally named the "Lifetime Leadership Award," the award was later dedicated in honor of Dean Michael C. Holen for his tremendous support of Leadership Studies and then paired with the Leader-in-Residence initiative, originally sponsored by the Stephens family, to both honor outstanding leadership and bring leaders to campus in service to our students' learning. Mary Lynn and Warren Staley were the inaugural Michael C. Holen Leader in Residence recipients.
2014 Recipient: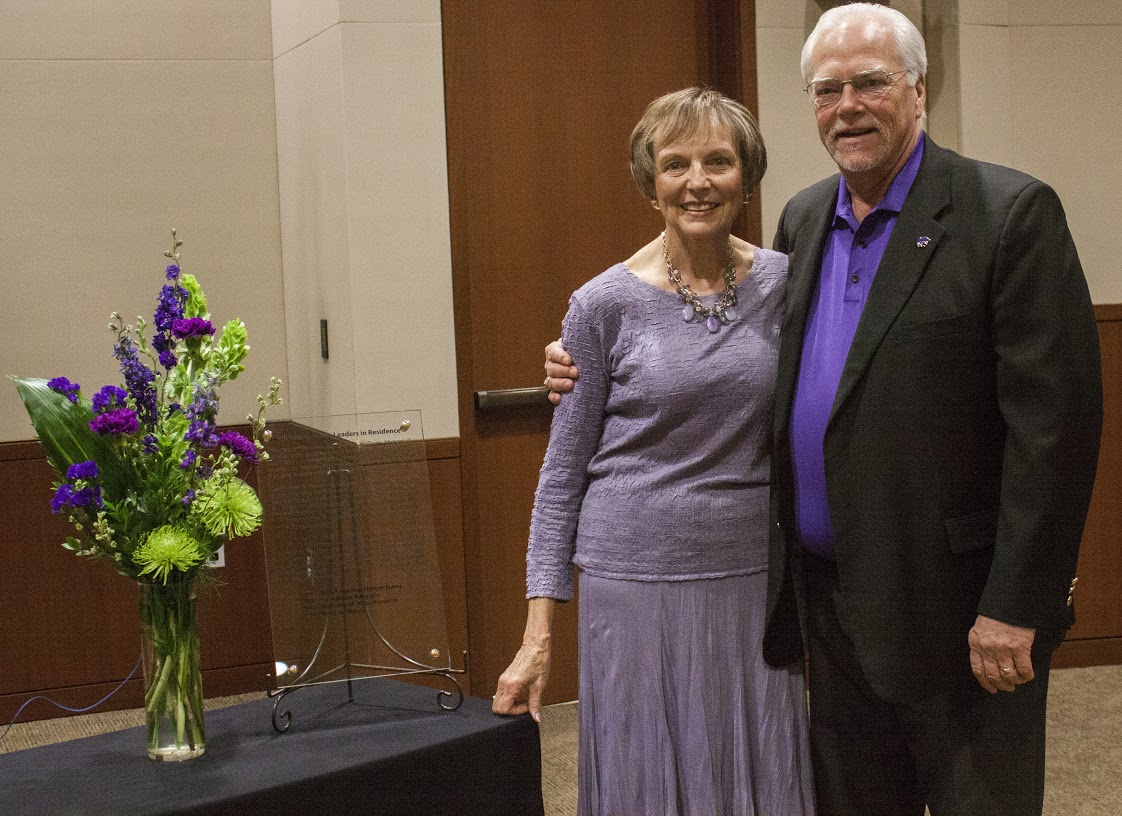 Mary Jo Myers is an associate director of public affairs for Hayes and Associates, a public relations, communications, and event planning firm. Her focus is on events for military-related nonprofit organizations.
A military spouse for more than 40 years, Myers is continuing her involvement with the military by serving on the advisory boards for THANKSUSA, Tragedy Assistance Program for Survivors (TAPS), National Military Family Association, and the Board of Trustees for the Fisher House Foundation. She also serves as a co-chair for the USO Gala.
She was instrumental in establishing the "Hero Miles" program operated by Fisher House Foundation that uses donated frequent flyer miles to purchase tickets for families of hospitalized military members to visit their loved ones.
She currently serves on the Women's Initiative Policy Advisory Council formed by Mrs. Laura Bush as part of the Bush Foundation. In recognition of her volunteer service, Myers was appointed to the President's Council on Service and Civic Participation in February, 2006 and served through 2009.
She was a founding member and serves as president of the Aschiana Foundation which supports literacy and vocational training, nutrition and basic medical care for working street children in Afghanistan. In addition, Myers is a member of the board for MediSend and received their first Humanitarian Award in 2004. Other awards include The Spirit of the USO in 2005 and NationalDefenseUniversity's American Spirit Award.
A graduate of Kansas State University, Myers remains active in support of her alma mater as a member of the Alumni Board and a Foundation Trustee.
Paul Maina

2012

Mary Lynn and Warren Staley
2011

Tom Hawk

2010

Amy Button Renz

2009

Suzanne Mayo-Theus
2008

Atina Hanna

2007

Carol Gould

2006

Ruth Ann Wefald

2005

Grace Y. Hwang

2004

James R. Coffman

2003

Linda P. Thurston

2002

Deb Patterson

2001

Page & Nancy Twiss

2000
Lifetime Leadership Award

Buck O'Neil

1999
Lifetime Leadership Award