Cultural Passport Program
Made possible by the generous philanthropy of alumni Edward and
Chris Null, the Cultural Passport Program encourages and facilitates
honors student engagement with the arts at Kansas State University.
Working with campus partners, and with the Honors Executive
Committee, the University Honors Program sponsors programs
throughout the year at McCain Auditorium, Marianna Kistler
Beach Museum of Art, University Libraries, and K-State School of
Music, Theater, and Dance. McCain provides tickets free of charge!
Opportunities will be highlighted in Monday Memos as well as below.
Know that tickets for various events are limited and for the most part
distributed on a first-come, first-served basis. Furthermore, know that
honors students are usually limited to two tickets per event, but that
use of the second ticket is open; that is, one's companion need not be
another member of the University Honors Program. All are welcome.
Upcoming:
---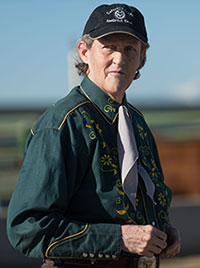 Dr. Temple Grandin, author, world-renowned autism spokesperson, consultant to the livestock industry on animal behavior and professor of animal science at Colorado State University
10:30 a.m. Tuesday, Nov. 29 McCain Auditorium
Martin Baron, executive editor for the Washington Post
10:30 a.m. Thursday, April 6, 2017 Forum Hall, K-State Student Union