Staff Directory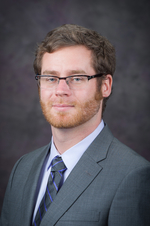 Brad McDonald
International Student Advisor
Office: 104 International Student Center
Phone: 785-532-6448
E-mail: mcdonaldbradley@ksu.edu
Education:
M.A., Cross-Cultural and International Education, Bowling Green State University
B.A., International Relations, Michigan State University

Brad grew up in a suburb of Lansing, Michigan. He has been to 32 foreign countries as a tourist, student, and for work. He lived in Albania for 3.5 years as a Peace Corps Volunteer and in Serbia 8 months with American Councils for International Education. He speaks advanced Albanian, intermediate Russian, and likes learning phrases from different languages. Brad also enjoys watching baseball, learning new dances, and traveling to new places near and far.