MJ Morgan
Associate Professor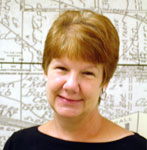 Office: 111A Leasure Hall
Email:morganm@k-state.edu
Phone: (785) 532-0380
MJ Morgan received her Ph.D. from the University of Cincinnati, with a specialty in French colonial North America, the Mississippi Valley, 1650-1850, and riverine environmental history. She also holds degrees in writing from the University of Alaska. Currently adjunct professor of history, she teaches undergraduate and graduate classes and serves as history lab director for the Chapman Center for Rural Studies. In her class on migration, settlement, town formation and persistence, she trains students in local history research and broader, interpretive writing. She is strongly interested in the concepts of regional history and population mosaics determined by rivers. Her first book, Land of Big Rivers: French and Indian Illinois, 1699-1778, will be released in 2010 by Southern Illinois University Press.
Select Publications
MJ Morgan has published articles on French America and reviews of regional histories in the Journal of Illinois History, Ohio Valley History Journal, and Louisiana History (forthcoming). She has contributed a chapter on the French and Cahokia Indians to a proposed historical geography collection, and her dissertation was a finalist for the 2006 Great Lakes American Studies Award.
Courses Taught
History 533: Special Topics: African American Kansas
History 533: Life and Death of American Communities
History 799: Nineteenth Century History
HIST 986: Special Problems in Louisiana Regional History
Directed Readings in American Community History
Workshops on Realities of the American Fur Trade and Geography and History
Additional Information
Students interested in the concepts of microhistory, local & regional history, and in contributing to a research archive of north-central Kansas regional history as well as a proposed publication on the lost town of Broughton, Kansas, should contact me. It is the diversity of undergraduate and graduate history interests that has vitalized the Broughton Project. The current Chapman Center research initiative, a collection of student work on African American Kansas, is ongoing and continues the mission and vision of the Broughton Project.