Robert D. Linder
Professor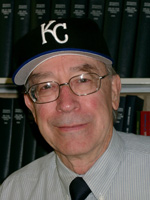 Office: 205 Eisenhower Hall
Email:rdl@ksu.edu
Phone: (785) 532-0372
"History, religion, politics, baseball! These are the important things of life. What else is there?" -- Professor Bob Linder
Specializations
History of Modern Christianity from the Reformation to the Present
History of Religion and Politics in Europe, Australia and the United States
Select publications
The Reformation Era (London: Greenwood Press, 2008).
Co-editor and contributor, Making History for God: Essays on Evangelicalism, Revival and Mission (Sydney: Robert Menzies College, 2004).
The History of the Church (rev. ed., London: Angus Hudson LTD, 2002).
The Long Tragedy: Australian Evangelical Christians and the Great War, 1914-1918 (Adelaide: Openbook Publishers, 2000).
Co-editor, author of the Introduction and contributor, A Dictionary of Christianity in America(Chicago: IV Press, 1990).
Courses Taught
History of Christianity
The Reformation
Religion in American History
The History of Baseball in American Culture
Graduate Seminars in the History of Christianity, Religion and Politics, and War and Peace
Current Projects
In Press: Between Heaven and Hell: A History of Australian Evangelical Christianity, 1788-2000.
Book manuscript in progress: A revised edition of Civil Religion and the Presidency, orginally published by Zondervan/Harper Collins, 1988.
Book manuscript in progress: a biography of Frank Carlson, 1893-1987.
Book manuscript in progress: a biography of Pierre Viret, 1511-1571.