Ranin Kazemi
Office: Eisenhower 315
Email:rkazemi@k-state.edu
Phone: (785) 532-4819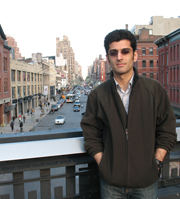 I am a historian of the contemporary Middle East, modern North Africa, and Iran. I have also done some work on medieval Islamic history. At Kansas State, my teaching seeks to analyze social processes and undercurrents that led to the making of economic structures, political formations, and cultural and ideological practices in Muslim societies.
In my research and writing, I am drawn to dynamics that contributed to the formation of modern society in the broader Middle East. In particular, I am interested in the life of ordinary people, their material and religious culture, and the relations between these and other elements within society. More specific areas of interest include social protest, rural society, environmental change, and resource management, as well as issues pertaining to gender and sexuality.
My book manuscript in progress, 'Neither Indians, Nor Egyptians': Social Protest and Islamic Populism in the Making of the Tobacco Movement in Iran, 1850–1905, traces the economic, social, and cultural origins of one of the earliest national revolutionary movements in the modern Middle East. Grounded in history from below and agrarian studies, this work challenges some of the most basic tenets of Iranian and Middle Eastern historiography. To complete this work, I have carried out research in Iranian, Turkish, British, and American archives.
My research has been supported by the Woodrow Wilson National Fellowship Foundation, the Council of American Overseas Research Centers, the American Institute of Iranian Studies, and the Yale University Whitney and Betty MacMillan Center for International and Area Studies.
When not working, I enjoy the great classics of world literature and philosophy, cycling, running, hiking, traveling to countries I have not been to, and learning (rather slowly) to play a new instrument.
Select Publications
Guest editor, theme issue "Rebellion and Resistance in the Nineteenth-Century Middle East: Subalterns, Outlaws, and Radicals," Journal of Persianate Studies (forthcoming spring 2013).
Guest editor, theme issue "New Trends in the Social and Cultural History of Nineteenth-Century Iran," Journal of the International Society for Iranian Studies (forthcoming summer 2013).
"Famine and the Politicization of Crowds in Nineteenth-Century Iran," Journal of Persianate Studies (forthcoming spring 2013).
Teaching
Undergraduate
HIST 112: World History since 1450

HIST 598: The Emergence of the Modern Middle East

HIST 598: The Formation of Modern Iran, 1500–Present
Graduate
Hist 852: Social Conflict and Protest in the Modern Middle East