Henry C. Gardiner Global Food Systems Lecture
Feeding the World, Sustaining the Planet
Monday, September 11, 2017
Jason Clay, Sr. Vice President, Markets and Food
World Wildlife Fund
Jason Clay, Senior Vice President for Markets and Food at World Wildlife Fund, works with some of the world's largest companies to reduce their impact on the environment.
In addition to his work with WWF, he is the author of 20 books and is National Geographic's first-ever Food and Sustainability Fellow. Clay created one of the first U.S. fair-trade ecolabels and has been involved in developing many other standards for commodities such as cotton, shrimp and sugarcane.
Early in his career, Clay received a PhD in Anthropology and International Agriculture as a result of his interest in sustainability from working on and then running the family farm. Over the course of his career, he worked with the U.S. Department of Agriculture, taught at Harvard and Yale and was awarded the 2012 James Beard Award for his work on global food sustainability. He spent 15 years working on human rights with indigenous people, refugees and famine victims.
Dr. Clay's Sept. 11 talk on feeding the world while sustaining the planet is free and open to the public.
TRANSCRIPT: Read the unedited transcript from Jason Clay's talk at Kansas State University
(Click video below to watch Clay's Sept. 11 lecture)
---
Water, Food, and Energy: Interwoven challenges to sustainable resource management
October 3, 2016
Jay Famiglietti, Hydrologist and Professor, University of California-Irvine
Kansas State University McCain Auditorium
(Excerpts from Jay Famiglietti's Lecture)
Jay Famiglietti is a hydrologist and professor of earth system science and of civil and environmental engineering at the University of California in Irvine. He is on leave from teaching through June, 2016 to serve as the senior water scientist for the NASA Jet Propulsion Laboratory at the California Institute of Technology.
Jay's research using NASA satellites to track dwindling global freshwater availability has garnered international attention.
Read full bio (pdf)
---
Climate Change and the Future of Food Production
October 12, 2015
Greg Page, Executive Director, Cargill
Kansas State University McCain Auditorium
Since joining Cargill in 1974, Greg Page has held numerous positions with the company in the United States and internationally, including a poultry processing operation in Thailand; beef and pork processing operations in Wichita, Kan.; and the Financial Markets Group in Minneapolis.
He served as Cargill's chief executive officer from 2007 to 2013. He has been the chairman of the Board of Directors since 2007.
Read full bio
---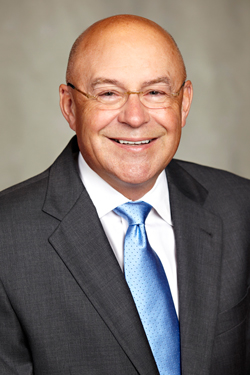 Inaugural Lecture / January, 2015
"2050: Agriculture's Role in Mitigating Global Challenges"
Robert Fraley, Monsanto, Executive Vice President and Chief Technology Officer
2013 World Food Prize Recipient
BELOW: Video of Dr. Fraley's Jan. 26 lecture

In 1983, Robert Fraley and three other Monsanto scientists were the first to genetically modify plants, and 13 years later, he helped to lead the commercial launch of Roundup Ready soybeans and Bollgard insect-protected cotton.
By 2013, Fraley's work in this area contributed to crops that were being grown on more than 430 million acres around the world by 18 million farmers. More than 90 percent of the farmers are small, resource-poor farmers in developing countries.
Fraley's talk at Kansas State University is the debut event of the Henry C. Gardiner Global Food Systems Lecture Series.
TRANSCRIPT: Read the full text of Dr. Fraley's Jan. 26 lecture
COVERAGE: Monsanto Executive and 2013 World Food Prize recipient addresses food security
EVENT ANNOUNCEMENT/BACKGROUND: 2013 World Food Prize winner to kick off Global Food Systems lecture series (Dec. 19, 2014)
The mission of the Henry C. Gardiner Global Food Systems Lecture Series is to provide education and science to the global food system. The series allows university students, faculty, staff and citizens to interact with leading U.S. and international food industry officials.