Facilities
Thompson Hall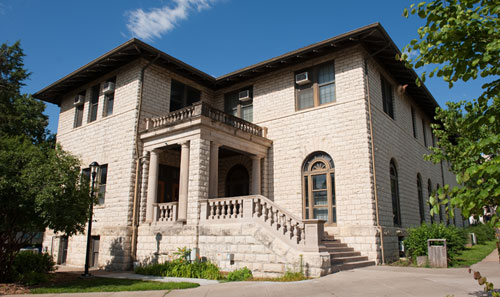 The Department of Geology occupies Thompson Hall, which includes classrooms, offices, a small library and teaching/research laboratories. Most of the laboratory spaces are supervised by individual faculty members, and used primarily by them and their students. Several, such as the computer labs, are for all who need them. These spaces and the equipment they contain serve about half the research needs of the department, with the rest elsewhere on campus or at collaborative institutions.
The Department of Geology houses two computer laboratories that house computers and/or workstations, scanners, printers, and plotters. One laboratory is specifically designated for students and hosts several advanced workstations and industry software; it is used for 3-D seismic exercises as well as lab exercises in petrology and other advanced courses. The other hosts a 44" plotter for preparing posters for presentation. Thompson Hall is fully wireless.
Thompson Hall has three geochemical labs with fume hoods. We also have labs for cutting and crushing rock, sectioning and polishing, and other routine sample preparation. Individual faculty labs house deionized water systems, work areas with binocular and petrographic microscopes (including fixed digital cameras), and work areas with analytical balances and drying ovens.
The geochemistry and hydrogeology lab at KSU is equipped with a state-of-the-art water/solution cation-anion analyzer (Dionex RFIC Ion Chromatography-ICS 3000) and the Optically Simulated Luminescence (OSL) laboratories host a state-of-the-art, fully automated luminescence dating system model no. Risø TL-DA-20C/D.
In addition to the usual hand-held transits and GPS devices for basic field geology, we have a suite of geophysical equipment including a Topcon GTS-229 laser total station, a proton precession magnetometer, a ground-penetrating radar system with antennae for two different depth ranges, a Worden gravimeter, an electromagnetic sensor, and a seismic reflection/refraction system. These instruments can also be used for undergraduate and graduate thesis research.
On-Campus Research Facilities
Other facilities on campus include a TRIGA Mark II pulsing reactor (Neutron Activation Analysis), A Hitachi Scanning Electron Microscope w/ Oxford EDS attachment (and Astimex standard mount) that is housed in the Department of Entomology, the Stable Isotope Mass Spec Lab in the Division of Biology, ICP-OES in the Department of Agronomy, ICP-MS in the College of Veterinary Medicine, and X-Ray diffraction in Agronomy and the Department of Chemistry. Other electron microscopes (e.g. SEM, TEM) are present in the College of Engineering, the College of Veterinary Medicine, and the Division of Biology.