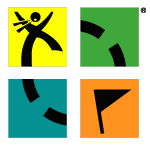 Geocaching Club
Welcome to website of the K-State Geocaching Club. Geocaching is a treasure hunting GPS game, where you find hidden 'caches' all around the world with your GPS. If you want to learn more about geocaching, read slides from presentation, see caches in Manhattan or check out geocaching.com. The purpose of this club is to meet, hunt caches and have fun. Read more about it.
How to join?
We have a LISTSERV mailing list which is used for communication. If you want to receive emails about meetings, you can join the list. Membership is free.
We have also a Facebook Group. You are free to join there. Events will be posted both on Facebook and mailing list.
Meeting time
We meet every Wednesday at 4 pm or Thursday at 6 pm. The place is always near campus and it is always announced via mailing list and Facebook.