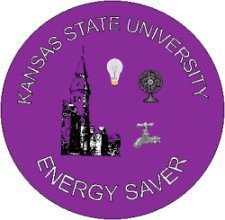 ENERGY CONSERVATION
The Energy Conservation (EC) Shop was established in January 1999. This shop has the responsibility of overseeing the efficiency and cost effectiveness of energy using systems across campus. This encompasses the usage of electricity, water, steam, and other forms of utilities. In addition, this shop oversees the building system controls. Working with campus departments, this shop will be an important part of the campus services performed by KSU Physical Facilities.
1. Set thermostats to 68F in Winter and 78F in Summer.
2. Day and weekend set-backs on thermostats, 10 p.m. to 7 a.m.
3. Review requests for exceptions to thermostat setting and seek alternatives that will conserve energy.
4. Energy Management Shop interacts with building occupants to save energy.
5. Ongoing energy audits of buildings.