7th Annual Cultural Studies Symposium
March 12-14, 1998
Kansas State University, Manhattan, Kansas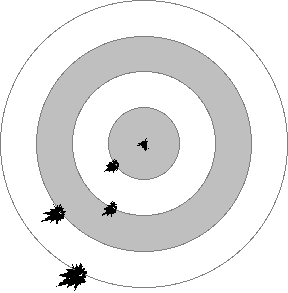 THURSDAY, March 12, 1998
12:00 noon - 1:30 p.m.
Session 1: U207, Fight Fire with Fire, Bonnie Nelson (KSU), moderator
Lisa Coulthard (U of Toronto), "Dead Men Don't Rape: Revenge Feminism and Popular Culture"
Susan Anne Carlson (Pittsburg St U), "Turning Incest into High Art: Anais Nin and the Father Romance"
Robin Ikegami (Xavier U), "Violence as Empowerment and Redemption in Contemporary Women's Literature"
Session 2: U212, Unspeakable Coercions, Alison Wheatley (KSU), moderator
S. Lillian Kremer (KSU), "Holocaust Coping and Survival Strategies: Women's Witness"
Alan Sikes (U of MN), "Performing Subjects/Performative Acts: Notes on a Nazi Concentration Camp"
Corey Lewis (KSU), "Upsetting Ambiguities in the Work of Franz Kafka"
1:45-3:15 p.m.
Session 3: U207, Race and Violence, Jerome Dees (KSU), moderator
Margaret Mara (First Step House, Lawrence), "White Womanhood Stands In Bloodied Skirts: The Pedestal and the Auction Block"
Kathleen De Grave (Pittsburg St U), "'Reign of Death-Eye Dog': the Politics of Violence in Native American Literature"
Lynnell Thomas (Emory U), "Vestiges of the Old South in the Old Square (Vieux Carré)"
Session 4: U212, S/He Asked For It..., Dean Hall (KSU), moderator
Cathy Bogart (Avila College), "'She Asked For It': Perceptions of Women, Alcohol and Sexual Assault"
Minna Ruuskanen (U of Helsinki), "Of Women Who Have Killed a Man in a Close Relationship"
L. Susan Williams (KSU), "Gender, Justice, and the Courts: Judicial and Courtroom Bias in Domestic Violence and Rape Cases"
3:30-5:00 p.m.
Session 5: U207, Slashing the Celluloid, Lawrence Rodgers (KSU), moderator
Steffen Hantke (U of Northern CO), "Violence Incorporated: On the Uses of Gratuitous Violence in Fiction"
Matthew Brooks (KSU), "Violent Messages Made Over"
Linda Brigham (KSU), "'Really Bad Aliens' and Social Solidarity in Alien3"
David Schmid (SUNY - Buffalo), "The Serial Killer as Culture Industry"
Session 6: U212, Crossing the Threshold with Bluebeard, Angela Hubler (KSU), moderator
Casie Hermansson (Pittsburg St U), "Narrative Violence: Bluebeard and his Reader"
Bansari Mitra (George Mason University), "Bluebeard's Bloody Chamber: The Aesthetics of Violence in Angela Carter's Adult Fairy Tales"
7:00-8:30 p.m., Seaton 063
Reading by Mary Karr
**Reception 8:30-10:30 p.m.
FRIDAY, March 13, 1998
8:45-10:15 a.m.
Session 7: U205, Sites of Violence in the Abortion Debate, Jan Boudart (Chicago, IL), moderator
Jennifer Margiotta (Georgetown U), "Envisioning (Re)productions of Social Justice in Reproductive Health Activism"
Ginna Husting (U of IL), "War, Violence, Chaos, Law and Order in Abortion-Related Protest"
Linda Myrsiades (West Chester U), "The Abortion Wars: Cultural and Legal Construction of Reproductive Woman"
Session 8: U212, Violent Spectacles and Those Who Watch, Steffen Hantke (U of Northern CO), moderator
Salvador Oropesa (KSU), "Violence in Movies: Tesis by Alejandro Abenámar"
Peter Caster (OR St U), "Ultra-violence and the Spectacle of Killing in John Woo's Films"
Julie Tharp (U of WI), "When the Body is Your Own: Feminist Film Criticism and the Horror Genre"
Kristina Zarlengo (Columbia U), "Some Deaths of the Nation in Nuclear War Films"
10:30 a.m. - 12:00 noon
Session 9: U205, The Writing Classroom as a Site of Violence, Irene Ward (KSU), moderator
John Bruni (KU), "Electronic Writing Spaces: Technological Literacy and Class Distinctions"
William J. Carpenter (KU), "Thriving on 'Open-Mindedness': Why Students are Persuaded Not to Persuade"
Amy Goforth (KSU), "Stratification, Domination, and Subordination: The Violence of Marginalization in the Collaborative Writing Class"
Sharon James McGee (KSU), "The Sound of Silencing: The Violence of Teacher Response"
Session 10: U212, Violence, Imperialism, and Victorian Solidarity, Naomi Wood (KSU), moderator
Donald E. Hall (CA St U, Northridge), "Middlemarching: George Eliot, ARBEIT UND FREIHEIT"
Michael Hancock (KU), "George Eliot and Provincial Violence"
M. Kellen Williams (Kennesaw St U), "'If Not By Fair Means, Then By Foul': Naming the Perverse Body in Robert Louis Stevenson's STRANGE CASE OF DR. JEKYLL AND MR. HYDE"
Joseph McLaughlin (Ohio U), "Fear in a Handful of Soap: Commodity Imperialism in Shaw's PYGMALION"
[Lunch 12:00 noon - 1:30 p.m.]
1:30-3:00 p.m., U212
ROUND TABLE ON VIOLENCE: Theory, Practice, and the Real Experience of Violence Against Women in the U.S.: Historical and Contemporary Perspectives by Sandy Barnett, Executive Director, Kansan Coalition Against Domestic Violence; Judy Davis, Executive Director, The Crisis Center, Inc.; Melissa Divine, Women's Studies instructor, Crisis Center; Sue Zschoche, Associate Professor of History, Kansas State.
3:15-4:45 p.m.
Session 11: U205, Telling Trauma, Amy Cummins (KU), moderator
Kathleen Nichols (Pittsburg St U), "The Cultural Shock-Jocks of Moral Reform and Literary Representations of Child Murder in Toni Morrison's BELOVED"
Lisa Garbus (UC Berkeley), "Stories of Violence: Literature, Film, Philosophy and Life"
Deborah Thompson-Galloway (SW MO St U), "Darin Galloway: Personal Reflection on a Murder Unsolved"
Session 12: U212, Misreading and Violence in Cultural Texts, Michele Janette (KSU), moderator
Helena Simonett (Antioch, TN), "'Los gallos valientes': Examining Violence in Popular Mexican Music"
Andrew Beck (San Diego St U), "'Scorched Earth' Campaigns: US Pop Culture in the Guatemalan Highlands"
Helen Kapstein (Columbia U), "A Town Called Nobody: Witchcraft and Violence in South Africa"
7:00-8:30 p.m., Union 212
Drucilla Cornell, Professor of Law, Political Science, and Women's Studies, Rutgers University: "Language Rights at the Heart of Freedom"
**Reception 8:30-10:30 p.m.
SATURDAY, March 14, 1998
8:15-9:30 a.m.
Session 13: U204, Women Writing Through Violence, Carol Franko (KSU), moderator
Anna Lott (U of North AL), "Revolutionary Violence in Elizabeth Inchbald's A SIMPLE STORY"
Marya McFadden (U of Southern CA), "Queerness at Shrews-bury, or '...What Lived in Academic Towers': Danger and Homoerotic Desire in Dorothy L. Sayers' GAUDY NIGHT"
Eluned Summers-Bremner (U of Auckland), "Subduing the Body's Knowledge: Sexual Anxiety in Patricia Cornwell's Fiction"
Session 14: U212, Policing Identities and the Violence of Law, Lyman Baker (KSU), moderator
Daniel Shea (KSU), "Efficiency and Violence in the NYPD"
Caren Irr (PA St U), "UNITED STATES V. NIXON: White Collar Violence and the Act"
Richard Schur (KU), "The Violence of Legal Identities: I AM NOT STILLER! and Performing Identity"
9:45-11:00 a.m.
Session 15: U212, Handling Trauma, Christina Hauck (KSU), moderator
David Mazella (U of Houston), "Post-Traumatic Cynicism: Two Crashes"
Sara Murphy (New York U), "Training in Trauma: Rape Crisis Videos and Female Adolescence"
Carrie Rentschler (U of IL at Urbana-Champaign), "The Politics of Resentment in the American Victims' Rights Movement"
11:15-12:15, U212
Robert Schaeffer, Associate Professor of Global Sociology, San Jose State: "Violent Memories, Virtual Realities"
[Lunch 12:15-1:30 p.m.]
1:30-3:00 p.m.
Session 16: U204, Tough Love, Margaret Conrow (KSU), moderator
Karmen MacKendrick (Gettysburg College), "Taking it From The Top"
Terry Hoople (Concordia U), "SM Asceticism and the Ethics of Violence"
Susan Palwick (U of NV - Reno), "When Worlds Collide: The Failure of Utopia in Anne Rice's EXIT TO EDEN"
Session 17: U212, Dismembered Women, Miriam Shadis (Ohio U), moderator
M. Diane Brown (Portland St U), "Asceticism and Secret: THE BOOK OF MARGERY KEMPE and Contemporary Culture"
Angela Smith (U of MN), "Dismembering the Normative Body, Rendering it Deviant: The Photography of Cindy Sherman"
Nancy Cervetti (Avila College), "The Legacy of William Hunter's GRAVID UTERUS: Institutionalizing Violation"
3:15-4:45 p.m.
Session 18: U204, Channelling Violence: Exclusion, Discipline, Iteration, Anne Phillips (KSU), moderator
Gregory Eiselein (KSU), "Bisexual Violence"
Alpha Selene Anderson (Seattle, WA), "Familial Territory: Representations of Domestic Violence in Contemporary North American and Irish Fiction"
Jennifer Thompson (U of CA - Irvine), "Performativity and Sexual Violence"
Session 19: U212, Recovering Violence in US History, Gil Rodman (U of S. Florida), moderator
Fred Whitehead (KU), "Violence and Liberation: The Struggle for Emancipation in Ohio and Kentucky, 1845-1865"
Jeffory Clymer (Duke U), "'Bomb Talking': The Cultural Work of Imagined Terrorist Conspiracies in the 1886 Chicago Haymarket Bombing"
Tim Dayton (KSU), "'These are the proportions of a war': Muriel Ruykeyser's THE BOOK OF THE DEAD, Marxism, and History"
5:00-6:30 p.m.
Union Room 212
POETRY READING: Frances Driscoll, Chris Cokinos, Christina Hauck