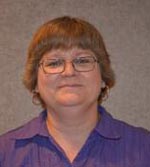 Name: Pat Fine
Office: Hale Library
Address: 509 Hale
Phone: 785-532-7793
E-Mail: pfine@ksu.edu
Senate Position: Secretary
Classified Senate Profiles
Pat Fine
Short Biography:
I grew up in the Emporia area, and graduated from high school in a small town near there, Hartford. I graduated from Emporia State University with a BA in history, which any history major will tell you isn't worth a whole lot in the job market. I did meet my husband of 30 years, Dean, while I was going to school there, so it wasn't a total waste. Our son, Leigh, and daughter, Jessica, are both graduates of Kansas State University.
Brief Work History:
I began work as a classified employee at ESU a couple of months after I graduated from there in 1981. All of the years at ESU were spent at the library in numerous departments, except for a 2 year stint at the Student Health Center. While at ESU, I served 2 years as chair of what was then known as Classified Council. We did try to get the president to let us upgrade to an official classified senate while I was chair, but it was never approved. I transferred to the K State Libraries in 2005, and spend my time behind the scenes prepping books to go out on the shelves.
Personal Interests:
I know it's hard to imagine because I work in a library, but I love to read. You don't have to wonder what I'll be doing in a couple of years when I have my 85 points and am out of here; I'll be reading even more than I am now. I watch old black and white Cary Grant films whenever I can, and have watched all the old James Bond films numerous times. Yes, Sean Connery was the best James Bond ever. My husband and I go walking outside as often as the weather and our conflicting work schedules permit.