About Us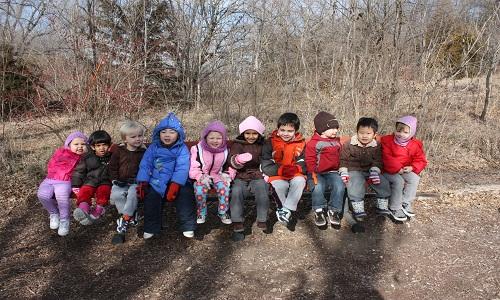 The Center provides early childhood care and education programs for children of K-State students, faculty, staff, and community families. The Center is licensed by the Kansas Department of Health and Environment to serve 230 children, ages 6 weeks to 5th grade at the Jardine site and 16 infants and toddlers at the Claflin site. The Center is proud to be one of 8% of childcare centers accredited by the National Association for the Education of Young Children. Our classrooms have a Lead and an Assistant Teacher and the number of children in the room is lower than allowed at centers that follow licensing regulations. Our Center follows accreditation guidelines that have a lower child ratio to two teachers.
The Center's new State-of-the-Art facility was designed especially for children and early childhood educators. Security cameras, secure playgrounds and one entrance with entry codes to enter the building and classrooms help us keep our children, parents and staff safe. The facility has man "green" components and uses natural cleaning solutions to insure a healthy environment. The playgrounds feature nature-based outdoor classrooms as connecting children to nature is an important part of our philosophy and curriculum.
Quality Matters
Research has consistently demonstrated positive lifelong outcomes for children who attend high-quality early learning programs. These programs prepare children for school and they increase their chances for academic and career success. This in turn not only leads to them to be financially independent but less likely to be involved in crime and illegal activities.
Quality education produces positive effects that extend beyond the child to future generations. The K-State Center for Child Development is committed to pursuing quality in education and continuously improving its curriculum, building the capacities of teachers, and creating an enabling learning environment for children. So what does constitute quality?
Qualified teachers
Teachers with specialized early childhood training respond more sensitively to children's needs. They are more actively engaged with the children they teach and give more positive feedback and encouragement. Research has documented that children taught by teachers with college degrees play more creatively and imaginatively, as well as score higher on language tests.
The center recognizes that higher education is essential in providing quality care and education for children. All lead teachers at the center have a bachelor's degree or hold an ECE credential as they actively pursue their bachelor's.
Well-compensated teachers
Poor pay and limited benefits prevent early childhood programs from hiring and retaining highly effective teachers. Inadequate teacher compensation lowers program quality and leads to poorer cognitive, social, and emotional outcomes for children. The center administrator and the advisory board are working hard with community and university leaders to improve compensation and benefits for teachers, even in this difficult economic time. The center maintains competitive wages for early childhood professionals in our area. All our teachers are university employees and participate in the state employee benefits packet.
Teachers can also enjoy continuing professional development opportunities. The center sponsors many early childhood workshops and trainings, as well as encouraging and helping teachers continue their formal higher education.
Low teacher-child ratios and small group size
Small group sizes with two teachers significantly improves learning outcomes. Children are more likely to interact with teachers, become more emotionally secure with them; children receive individualized attention specific to their needs and children become more socially competent. The center is committed to the group sizes recommended by the National Association for the Education of Young Children and outlined in accreditation criteria and is a step better than adult/child ratios required by state childcare licensing.
Developmentally appropriate, research-based curricula, activities and materials
Developmentally appropriate practices are at the core of being an excellent early childhood professional. A developmentally appropriate program encourages children's active exploration of their classroom and world. Children manipulate real objects and learn through hands-on experiences.
A research-based curriculum provides opportunities for children to interact, explore, and communicate with other children and adults. Developmentally appropriate practices require both meeting children where they are and enabling them to reach goals that are both challenging and achievable.
Teachers at the center do this by getting to know each child and their interests, strengths, and weaknesses. They then plan appropriate individual and small group activities and materials to meet each child's needs.
Well-designed facilities and equipment
Research in environmental psychology and architecture demonstrated association between physical environment (acoustics, density, climate control, lighting, bathrooms, sleeping areas, room layout etc.) and both student achievement and teacher retention. Our new facility at design stage incorporated best practices and latest scientific knowledge in this area.
Robust on-going training and professional development
Every teacher and staff member at the K-State Center for Child Development has an opportunity to continuously improve his or her classroom skills and stay abreast of the latest research and teaching methods. The center has come a long way: from parents' cooperative in 1985 with no specialized child development knowledge to the curriculum-based learning center that strives for an accreditation with the National Association for the Education of Young Children.
All full-time teachers have a continuing education goal as part of their professional development plan and are continually working to increase their level of competence. From an assistant teacher acquiring his or her associate's degree to an experienced teacher working on a master's degree, education is ongoing at the center.
In addition to higher education opportunities, all teachers participate in monthly trainings on topics of interest and need to the program. Outside training from ECE community specialists and resource and referral agencies also allow staff members to learn more on a subject or to refresh and refine their skills. The center is closed for staff development training for three days in the spring and three days in the fall. Training at this time is focused on the program needs of each age group. The center has sponsored several nationally known speakers to present workshops at these trainings.
Systematic program evaluation and improvement
Teachers undertake continuous monitoring and evaluation of the curriculum and the learning program. A full program evaluation is conducted by the center administrators and advisory board yearly. Every year, a confidential survey is completed by each parent and staff member and the results are used to improve the program.
Meaningful involvement by parents
The K-State Center for Child Development recognizes that parents are children's first and most important teachers. Parents have an opportunity to partner with staff and teachers to aid in their child's development.
By partnering with families, we can give children exactly what they need to become successful lifelong learners. Teachers make a point of communicating informally with families each day at drop off and pick up. We also keep families up to date with family boards in each classroom, newsletters, daily sheets, phone calls, and/or e-mails. Parent-Teacher conferences are formally held two times a year to share progress reports and discuss each child's individual goals and plans for future development and activities. Parents or teachers can also request a conference at any other time during the year.
The center has an open door policy, so parents are invited into the classroom at anytime during the day. Families are welcome to eat lunch with their child, read to the class, or help with a special activity. Parents can also come spend time with their child during breaks in their work/school schedule.
The center has an active PTO, which holds monthly meetings and sponsors family events and larger volunteer opportunities.
Services that address non-education needs of children and families
The K-State Center for Child Development strives to accommodate any special needs of children and assures to the extent possible that children and families have access to various services like special nutrition and others.
Culturally competent services
The K-State Center for Child Development provides culturally sensitive services, enrolling children from more than 17 countries of the world. Children are enriched with different cultures from day-to-day interaction in a diverse environment. Children with limited English language proficiency receive support and are helped to integrate with their peers.



N.B. This page was developed using materials of the National Institute for the Early Education Research.