Giving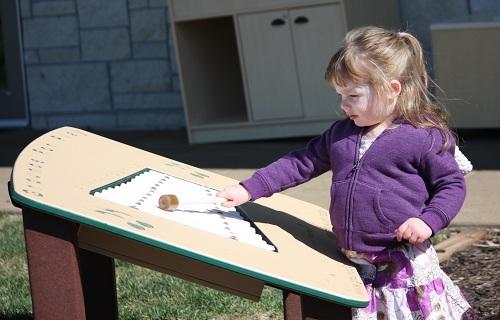 The Center for Child Development cannot begin to be a quality early care and education center without the help of many. Very few parents can afford the true cost of quality care. Therefore, the Center must have many funding sources to make the cost of care affordable. In order to have the funding when needed, the Center for Child Development Center Advisory Board has worked hard and long to develop an Endowment Excellence Fund. This fund has three different areas of funding:
Scholarships – these childcare scholarships make it possible for the most needy parents to not have to worry about their children while they are working or attending college to better their family's life. Often, these are single parents or parents that have had a life-changing event that has drastically effected their ability to provide a successful life for their family. For most of these families, they only need help for a short period of time to be able to reach their dreams.
Facility – sustainability and improvements – the new state-of-the-art early childhood facility opened December 1, 2010. This new facility and the furnishings in it were made possible by a one time opportunity. The low interest loan is being paid back over 20 years. There is no funding to keep the building as beautiful in the future as it is now, nor replace furnishings as needed. Not only must the quality of the facility be sustained, but improvements will be needed in the future. This fund is absolutely necessary to make it possible to have a high quality early childhood facility for future generations.
Programming Needs – the center administrator must pay for teacher professional development, curriculum, children's books and teacher resources, accreditation, and maintain best early childhood best practices by developing partnership and writing grants. These funding sources are not reliable nor always available. Therefore, this endowment fund will provide funding to ensure quality as needed when other funding sources are not available.
The dedication and hard work of the CCD Advisory Board, made up of university and community leaders as well as parents, has made this endowment fund possible – now we rely on our friends and parents to fully fund it. Continued gifts both small and large are necessary to maintain a beautiful secure facility, attract and retain highly qualified staff, and implement the very best in high quality early care and engaging education for children in our community.
Please consider helping us continue to do what we do for children and families and direct your gift to the Center for Child Development. Any amount is greatly appreciated. You will truly be making a difference.
The K-State CCD receives funding from the City of Manhattan Social Services Advisory Board to provide scholarships for low income community parents to make quality childcare more affordable. The City of Manhattan recently passed a resolution allowing citizens to make reoccurring monthly donations to help support social services in Manhattan. Donate to the Manhattan Social Services through your monthly utility bill. http://www.cityofmhk.com/forms.aspx?FID=156
The John R. Hager Childcare Fund
The John R. Hager Childcare Fund promotes academic growth for women's economic self- sufficiency and is a leadership philanthropy group for women. Each semester this fund awards scholarships to highly deserving single mothers to make quality child care more affordable. The number of scholarships depends on the number of members every year. For details, please contact the Center for Child Development.