Curriculum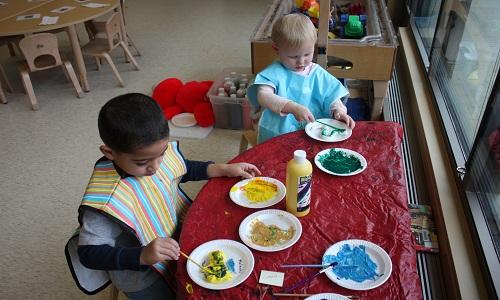 It is our belief that young children learn best by doing. Learning isn't just repeating what someone else says; it requires active thinking and experimenting to find out how things work and to learn firsthand about the world we live in. Play is the "work of children." It is how children make connections about their world and environment. Play provides the foundation for academic or "school" learning. It is the preparation children need before they learn highly abstract symbols such as letters and numbers. As a center, we recognize the importance of play in child's life and make it the cornerstone of our curriculum.
One of the most important aspects of our curriculum is to help children become enthusiastic learners. Children are encouraged to be active and creative explorers who are confident about trying out their ideas and thinking their own thoughts. Our goal is to help children become independent, self-confident, inquisitive learners. We're teaching them how to learn all through their lives. We're allowing them to learn at their own pace and in the ways that are best for them. We're instilling good habits and attitudes, in particular a positive sense of self, which will make a difference throughout their lives.
Infants and toddlers
Infant and toddler classes use the nationally recognized Creative Curriculum for Infants, Toddlers & Twos for developing classroom activities. The five components of the Creative Curriculum are creating a responsive environment; what children are learning; caring and teaching; partnering with families; and knowing infants, toddlers, and two's.
These five components will be met through the routines and experiences that the teacher develops with the children. These experiences are based around free-play, dramatic play, stories and books, music, art, food, sensory, and outdoors.
Intentional learning and relationship-building activities are planned during routine times such as hellos and good-byes, diapering and toileting, eating and mealtimes, sleeping and nap time, and getting dressed.
Through daily observations, teachers create an individual curriculum for each child in the classroom.
Preschool
Preschool classes use the nationally recognized Creative Curriculum as a basis for planning the classroom environment and activities. Creative Curriculum is based on theory and research and examines five main components: how children develop and learn; the learning environment; what children learn; the teacher's role; and the family's role.
Teachers set up the environment to focus on children in small groups and individually through the use of different interest areas, including dramatic play, blocks, art, discovery, sand and water, computer, and manipulatives. Through the Creative Curriculum, teachers observe and interact with the children to expand on their interests to promote developmental growth and cognitive learning.
Creative curriculum uses activities to enhance and develop literacy, mathematics, science, and cultural awareness through the use of ongoing studies of topics that are relevant and of interest to the children in the classroom.
Activities for all ages
In each age group, all lead teachers are responsible for preparing weekly lesson plans based on age-appropriate learning activities. These plans are posted on the parent information board in each classroom for parent's review. The activities are planned to enhance and encourage the children's developmental areas of language, cognitive, fine motor, gross motor, self-help, and social-emotional skills.
Please ask your child's lead teacher if you have any questions about the plans. Teachers welcome parent input in planning activities for children.