2013: The Year of the Brain

Download a PDF of the latest list of brain scholars / Updated 4/26/13
To participate and to get a free book (How the Brain Learns by David A. Sousa) contact your department head or the Center at 785-532-7828.
The KSOL Brain Scholars Hub
We hope that this will be a dynamic resource for everyone on campus who is pursuing a better understanding of how the brain learns. If you are looking for a study group or just have resources about 'learning and the brain' to share, this is a place to connect with the broader group. Feel free to create message boards, post meetings of study groups, and upload resources. You will find the 'course' in your K-State Online Organizer at online.ksu.edu. Check it out!
Events
"How the Brain Learns" Summer Reading Group with Jana Fallin
Jana will be facilitating a summer reading/study group to cover "How the Brain Learns" in its entirety. If you're interested or would like to be placed on the roster, please email shay@k-state.edu. Hope to see you there!

All meetings will take place in Leadership Studies Room 123.

June 12
1:30-2:30pm
Intro, Chapters 1 & 2
July 10
2:00-3:00pm
Chapters 3, 4, 5

July 31
2:00-3:00pm
Chapters 6, 7, 8
May 6, 2013: Chapters 3 & 4, Reading/Study Group with Sanjay and Ellie
12:30-1:20pm / Throckmorton 2024
Sanjay and Ellie will be facilitating a study group to meet several times throughout the summer, over Chapters 3 and 4. The first group meeting will be on May 6. No registration is needed. If you have questions, feel free to email Sanjay at srebello@phys.ksu.edu
Sanjay will post additional reading materials to the KSOL Brain Scholars Hub.
April 26, 2013 "This is your Brain in ACTion" with Sally Bailey - An interactive workshop
April 15, 2013 "The Brain and the Alexander Technique: Changing Habits" with visiting professor, Mio Morales
March 29, 2013 "Memory, Retention, and the Transfer of Learning" with Sanjay Rebello and Ellie Sayr
Photos from the March 29 interactive discussion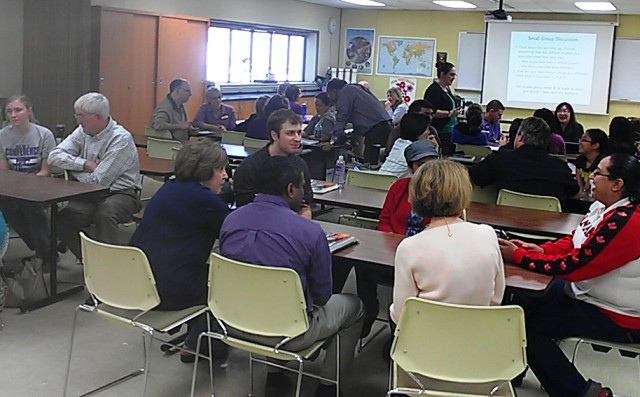 March 15, 2013 "Ten Things You Need to Know About Learning and the Brain" with Dr. Jane Fishback