Peer Review of Teaching Program
The Objective of the Peer Review of Teaching Program is to help faculty members develop and document their teaching by producing course portfolios. PRTP is designed to support faculty in the development of a community of scholars who write about the intellectual work involved in their teaching and who share that writing with interested colleagues. Download the PRPT 2012-2013 Brochure to learn more!
Call for Applications

The Center for Advancement of Teaching and Learning (CATL) is now accepting applications for the Coordinator position for the Peer Review of Teaching Program (PRTP). The two-year appointment begins July 2013 and continues through June 2015. Candidates for the position must have previous experience serving as a mentor for PRTP.
Responsibilities each year include advertising the program in the fall, soliciting peer and mentor applications, reviewing applications, selecting peers and mentors, coordinating an orientation meeting in December and monthly meetings throughout the spring semester, reviewing peer teaching portfolios, managing and updating program materials, and selecting model portfolios to be posted on the CATL website.
CATL staff and the PRTP Advisory Board provide administrative assistance, guidance, and oversight. Compensation includes an annual $5,000 in summer salary.
To apply, please submit a current CV and letter of application to Dr. Jana Fallin (jfallin@k-state.edu), Interim Director of CATL, by Friday, May 3. Letters of application should include detail regarding applicants' teaching accomplishments, experience with PRTP, and interests or aims related to serving as program coordinator. The Advisory Board will review all applications.
Questions may be directed to Board members, the current program coordinator (Dr. Alisa Garni, amgarni@k-state.edu), and/or Dr. Jana Fallin.

Activities
History
Portfolio
About the program
How to apply
Activities:
Fall semester activities include participating in a required project orientation on the morning of December 1 and collaborating with a faculty peer and mentor to review and revise course syllabi. Spring semester activities include monthly meetings with peers and mentors, class observation and memo exchanges, and drafting essays that will comprise the course portfolio, due on June 15, 2013. Following completion and approval of the course portfolio, each participant will receive $1,000.00 in faculty development funds.
History:
The Peer Review of Teaching Program has been in existence at Kansas State University since 1999. This program has been a part of a larger project that originated at the University of Nebraska-Lincoln and was funded jointly by the PEW foundation and the Provost's Office. PEW Foundation funding for the project ended in 2004. Because the program has been so beneficial to participants and the University in so many ways, a decision was made to continue it through funding from the Provost's Office.
Portfolio:
After local conversation and subsequent refinement, the portfolios will be made available to faculty on other participating campuses through the Peer Review of Teaching Project website, hosted by the University of Nebraska-Lincoln, and private comments will be exchanged. Some portfolio authors will make further revisions in their portfolios and in their courses, and the evolving portfolios will be an iterative record of the teacher's inquiry into those experiences that produce the most student understanding. The goal is to help faculty become skilled as writers and readers of course portfolios, making these portfolios useful both to those who produce them and those whose teaching can benefit from reading them.
Workshop photos - Nov. 6, 2010: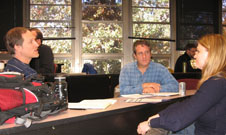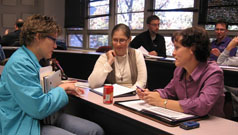 About the program
Coordinator:
Alisa Garni, Sociology
Advisory Board:
Robbie Bear, Biology
Fred Burrack, Music
Michele Janette, English
Michael Wesch, Anthropology
Naomi Wood, English
Faculty pairs engage in a series of three interactions. Each member picks a target course and completes three interactions in regards to this target course:
The first interaction, Reflections on Course Content, requires a team member to discuss the course syllabus and reflect on the course goals and the intellectual rationale for these goals.
The second interaction, Teaching Practices, has a team member reflect on the teaching methods, course assignments, and course materials.
The third interaction, Student Learning, has a team member reflect on teaching in terms of student learning. Each of these interactions is supported by the PRTP partner. Partners visit each others classes three times during the semester, as well as work together in a Scholarship of the Syllabus workshop before the semester begins.
Once the three interactions are completed, each participant integrates them into a reflective document (a Course Portfolio). This Course Portfolio may be made available to selected external reviewers at participating universities. Reviewers will use their experience and perspective to assess the intellectual quality and effectiveness of the teaching and the team member's ability to document it. Reviewer comments will be provided privately to each team member and will be useful in aiding in development of the course.
During the course of the academic year, participation and attendance at key meetings will be required:
an orientation session and syllabus workshop on Saturday, December 1 from 9am-Noon. Participants should bring a syllabus, or draft syllabus, for the spring course they will use for the Peer Review of Teaching Program.
monthly round table meetings during the spring semester to discuss teaching issues. These meetings will be on the weekday most convenient for participants. (Likely topics: how to make lectures more interactive; how to transition from small group work to wrap-up; teaching to multiple skill levels; social issues and dynamics (the role and place of humor; use of authority; addressing racism, sexism, homophobia); connecting specific classes and activities to larger curricular or career or cultural contexts). The final meeting will be a discussion of the portfolio and expectations for that document.
three class visits by each Peer Review Fellow to their partner's class for observation; exchange of memos to discuss the class objectives, observations, and analysis; face-to-face discussions between partnered Fellows and their Mentor. (Copies of the interaction memos will be sent to the PRTP Coordinator.)
Previous PRTP participants have suggested the following time estimates for the Baseline Course Portfolio:
Interaction #1 (6 hours), interaction #2 (4 hours), interaction #3 (12 hours), development of reflective memo or course portfolio (10 hours).
Additional time will be required.
How to Apply
Given the limited resources of the Peer Review of Teaching Program, participation is limited to about a dozen faculty a year, chosen from those who apply by the October 20, 2012 deadline.
To apply, send a brief memo to Alisa Garni, PRTP Coordinator (amgarni@k-state.edu), giving the following:
your name
your academic department
a very brief (25 word) description of the course on which you want to focus your Peer Review: include curriculum level; course type (lecture, seminar, studio); approximate number of students; and how much control you have over content
a short (100 word) explanation of why you want to focus on this particular course
a short (100 word) description of your approach to teaching
Applicants may apply in pairs (that is, may choose their own partners), or individually (in which case a partner will be assigned). Priority for Baseline Course Portfolio fellowships is given to applicants who have not previously participated in the Peer Review of Teaching Program.
Application Deadline: October 20, 2012
Send applications to:
Alisa Garni, Coordinator
Peer Review of Teaching Program
amgarni@k-state.edu