Rodney Wilson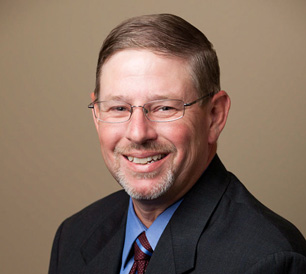 K-State graduation year: 1988
Degree: B.S. Economics
Other degree received: MBA Wichita State University, 1995
Current employer: Air Capital Interiors, Inc.
Position: President
How many times, if any, did you change your major during college?
Once, I started as a Math major.
Describe the process of choosing your major.
I'm not a person that had a specific job or career path in mind (and I still don't!). I was good at math and it challenged me, but I found my economics classes allowed me to use the math skills, but apply them in new ways. Also, the uniqueness and relative small size of the Economics Department (compared to the business school) was appealing to me.
What activities/organizations were you involved in while in college?
Golden Key

Arts & Sciences Student Council

Arts and Sciences Ambassadors

Intermural Sports

On-campus and off-campus jobs
Did you complete an internship or have related work experience prior to receiving your job?
No internship, but I learned things in each of the many jobs I had before and during college that have helped me throughout my career. I think the fact that I had worked in various jobs helped me to land my first "real job" at Cessna. I worked on a farm, drove an ambulance, was a convenience store clerk, an office assistant, worked in a bar, worked in the vet med diagnostic lab, was a tutor for the athletic department, and several other jobs, sometimes two or three at a time. The person that made the hiring decision at Cessna knew I wasn't afraid to work hard, and knew that I had experience working with different types of people in different situations. I believe that's ultimately what he wanted for that entry level position.
Describe the process of finding your first job.
I spent quite a bit of time preparing my resume, and interviewing my senior year at K-State. I interviewed for a number of jobs prior to getting my degree, and had second and third interviews for a few positions, but I didn't find anything that I was very enthusiastic about so I decided to start graduate school instead of accepting a position. After one year of graduate school, a friend told me about an opportunity to apply for an entry level finance position at Cessna Aircraft in Wichita. My school debt was mounting, and I was frankly getting tired of going to school, so I put my grad studies on hold and went to work. I will say that the interviews I did earlier all helped me to improve those skills and allowed me to be more confident when the right job came along.
Briefly describe a typical day at your job.
Our company is a start-up (incorporated in mid-2013) focused on the refurbishment of in-service general aviation interiors. We are very small, but growing. My typical day is do whatever it takes to ensure that our customers are satisfied and that our employees can be successful. Sweeping the floors, ordering parts, strategic planning, financial analysis, pricing, meeting with customers, working through certification challenges, reviewing resumes, and anything else you can imagine. No two days are alike…and I love it!
What do you enjoy most about your job?
Two things stand out: (1) our TEAM: I work with a wonderful group of people that are all dedicated to providing high quality products and services on-time, and for a competitive price and added unique value for our customers, and (2) I learn something every day.
What are the most challenging aspects of your job?
Learning parts of the business where I have the least experience: supply chain and aircraft certification are two that come to mind.
What advice would you give someone interested in your field?
It may not be unique to aviation, but expand your knowledge as broadly across the business as you can, and surround yourself with smart, capable people. You'll be better at whatever you do if you understand the entire process, and everything is easier when you can depend on those around you.
Has your career path taken any unconventional turns that you never would have expected?
My entire career could be described as a series of unconventional turns. I started my career in finance as a cost estimator/pricing analyst at Cessna. Subsequent positions included Contract Administration, Interior Design and Engineering, Process Transformation and Six Sigma.
During my time in Process Redesign I met a number of individuals just starting that effort from Schneider National, Inc., a very large, privately-held, trucking and logistics company. I was offered a position there to join a redesign team as an "outsider". Someone that understands process, but knew little about transportation. I was hired almost as much for what I didn't know as for what I did know. My positions there included Redesign Team Member, Process Coach, Program Manager, and Director of Strategic Customer Planning.
I returned to aviation and Wichita as Director of Program Management at DeCrane Aerospace, a company that built general aviation interiors. I had several title and responsibility changes as the company was purchased by Goodrich and then by United Technologies.
Now, I am a principle and President of Air Capital Interiors, so I get to apply all that I've learned during my career journey to grow a brand new company.
What job have you enjoyed the most and why?
I have always found enjoyment in the job I've had at the moment, because they have all presented unique challenges. I've never taken one position to qualify for the next. I was brought up to believe if you work hard and do a good job, opportunities will take care of themselves.
What tips do you have for current undergrads about opportunities they should definitely take advantage of while they are in school?
Work. Network. Be involved. I didn't realize it at the time, but having a work history, being involved in various activities, and having a strong and varied network, can lead to opportunities that you would never find otherwise.
Was there a specific class you remember that sparked your interest in your career direction?
Dr. Trenary's Microeconomics class stands out. It was a challenge, and he had a special way of making sure the Economic majors got the most out of it. I discovered that systems, interactions, intended and unintended consequences made me see things in a different way.
Was there a specific person in college who had a significant impact on your life or career?
My parents. They were great role models in terms of work ethic. They also expected me to make my own decisions and learn to live with the consequences. My career progression has depended upon making decisions and learning from both the good ones and the not so good ones.
What didn't college teach you that you wish you would have known before you started your career?
I didn't learn about process re-engineering and change management until long after I was out of college. I was very fortunate to meet Dr. Michael Hammer, "the father of re-engineering", and attend a great number of his conferences. What I learned from his books, his classes, and his advice, continue to impact me every day.
Do you keep in touch with your college classmates? How have those relationships influenced your career?
I haven't kept in touch with as many classmates as I would have liked, but my very best friends today date back to my days at K-State. These individuals have been there to share the good times and bad, and they have provided invaluable guidance, advice and support in my personal and professional life.
For more information, Rod can be reached at rwilson@aircapitalinteriors.com