Sidney Westervelt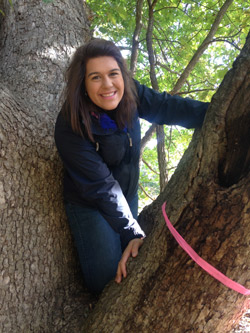 K-State graduation year: 2015
Degree: Elementary Education
Current employer: USD 475, Washington Elementary
Position: Classroom teacher
How many times, if any, did you change your major during college?
I changed my major one time, from secondary FACS education to elementary education.
Describe the process of choosing your major.
I always knew that I wanted to be a teacher, but I started out thinking that I wanted to be a high school teacher. It wasn't until multiple interactions with high schoolers that I noticed that was NOT my strong suit – younger kids were. Once that was realized, I was set on a path for victory! Sure, it wasn't easy, but definitely worth it.
What activities/organizations were you involved in while in college?
Smurthwaite Scholarship and Leadership House
Christian Challenge
Did you complete an internship or have related work experience prior to receiving your job?
Before teaching, we complete a student internship. Basically, we go into a classroom and slowly take over all subjects, learning what it's like to live as an 'actual' teacher. It's a hard, meaningful, very important experience.
Describe the process of finding your first job.
This makes me want to laugh out loud! I thought that the year after college, I was going to spend time volunteering with immigrants, refugees, homeless populations, and people on the poverty level. I had applied for that program, but it fell through and I learned I didn't get the position in the beginning of July. Goodness sakes! What was I going to do? I applied for a school, got an interview over Skype, got asked to come visit the school, and had a HUGE lack of peace about it. I turned that position down, as I knew, by the lack of peace, it wasn't the one.
Briefly describe a typical day at your job.
I teach. Children. Every single day. Math, writing, reading, social studies, STEM, life skills. I take care of everyday needs, like food to fill hungry tummies and making sure that my kids get enough sleep. I make sure that, emotionally, the kids are ready to handle the day and when they're not, I help them process their emotions and teach them that emotions aren't bad. I plan lessons according to the 20 different needs in my classroom, making sure that they will understand, while still being engaged. I put value in kids who may not see their value and I build them up so they know they are able to accomplish ANYTHING. That's a brief overview. I teach. I love. I build.
What do you enjoy most about your job?
The amount of influence I have as a teacher is HUGE and that's my favorite part of the job. I love the amount of joy the students bring me every day and how much I can influence their lives.
What are the most challenging aspects of your job?
The students. Goodness sakes alive, I cannot believe how much these students go through on a day-to-day basis. They bring all of that to school and I, as the teacher, get to help them process. Yes, this is hard, but always worth it. When you can see a child be able to begin to process life on their own, that's a huge accomplishment and makes you feel (and know) that you've made a difference. That makes it all worth it.
What advice would you give someone interested in your field?
Be ready to love people. Be flexible. Learn as much as you can about child development and child psychology – this helps you understand kids MUCH better.
What were the major lifestyle changes your first year out of college that made the transition hard from college to the world of work and how did you adapt?
This past year, I had to learn a lot of how to prioritize my time. It helped to have the student internship semester so I could already start that transition. However, teaching takes A LOT of time and you have to make sacrifices in order to do your job well. That means taking time to prepare you lessons and staying after school as needed. It means maybe giving up hanging out with people after work to grade papers. I had to learn what this looked like, but, also, as I got the hang of it, it got much easier.
What was the one thing you did in college that has had the most impact on your life or career?
The one thing that has helped my career the most was being the childcare coordinator for a program called Alpha. This allowed me to develop my classroom management strategies and learn to love kids well. I would suggest to anyone wanting to be a teacher to take time and work with the students (or that age of student) that you would have in your classroom.
What tips do you have for current undergrads about opportunities they should definitely take advantage of while they are in school?
VOLUNTEER. This opens your eyes and gives you so many connections! Branch out of your comfort zone and take time to learn about things you never thought about before. This widens your horizons and gives you new experiences.
Was there a specific class you remember that sparked your interest in your career direction?
5th grade – social studies. =].
What didn't college teach you that you wish you would have known before you started your career?
I think if I had learned a lot more about classroom management and different strategies, that would have been EXTREMELY helpful. However, those are some things you just may need to find out about on your own.
Do you keep in touch with your college classmates?
I kept in touch with one, but that really didn't influence my career at all. If anything, it gave me someone to bounce ideas off of and vent to when I needed to.
For more information, Sidney can be reached at swestervelt3@gmail.com