Katie Wessel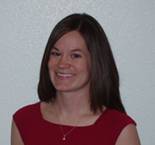 K-State graduation year: 2007
Degree: BS in Marketing
Other degree received: M.S. in Counseling and Student Development, Kansas State University, 2009
Current employer: University of Nebraska at Omaha
Position: Assistant Director, Career Advising
Describe the process of choosing your major.
I chose my undergraduate major after completing two different semester-long internships as part of a high school class during my senior year. I completed one internship at a local graphic design firm and the other at the marketing department for our local mall. I enjoyed the variety of tasks and interaction with people in the marketing department, so I declared it as my major.
Having this firsthand experience and a chance to talk to professionals in the field helped me to make an informed decision. After working several on-campus jobs as an undergrad, I decided I wanted to eventually pursue my master's degree in counseling and student development (student affairs) and continue working with college students.
What activities/organizations were you involved in while in college?
Undergraduate
Hall Governing Board
Union Program Council
Ichthus
Graduate
Student Affairs Graduate Association
National Association for Student Personnel Administrators
Did you complete an internship or have related work experience prior to receiving your job?
I didn't complete any internships while in college, but I worked several on-campus jobs to help me prepare for a future career in student affairs. Having a background with K-State's Housing and Dining Services, Student Financial Assistance, New Student Services, and Career and Employment Services helped me identify the area I wanted to pursue after completing my degrees. Also, having a broad knowledge of university services made me more appealing to future employers in the field.
Describe the process of finding your first job.
My first job after completing my bachelor's degree was as a staffing specialist for a temporary staffing agency. I found the position on a job search website and submitted my resume and cover letter electronically. I had been applying to and interviewing for various positions for about two months after graduation before I received the job offer.
When I entered into the field of student affairs after completing my graduate work, I spent more time on the job search process.
University hiring is cyclical, and more positions become available at the end of the academic year. I explored job posting websites at various universities, as well as a comprehensive site for student affairs job postings, academic360.com.
First-round interviews are typically conducted over the phone. For the second interview, the university may ask you to come to campus to meet face-to-face; some universities pay expenses, others don't have the funding available.
My second interviews varied in format according to the school. Some were all-day or half-day events that included meals with the hiring committees before I gave a presentation; others were more typical hour-long interviews. For my current position, I actually did the second interview with an out-of-state school using a webcam over Skype, an online video conferencing service, due to the quick turnaround time.
Briefly describe a typical day at your job.
There really is not a typical day as an advisor; it all depends on the time of year. During enrollment times,I meet with students throughout the day to help them develop a class schedule for the following semester and review their degree progress. I also meet with students to help them develop their resumes, provide resources to help them choose a major, or offer job search strategies. I spend other time working on individual or team projects. I may also have a staff meeting to attend or meet with my work team to discuss current projects. During the summer the focus shifts to new student orientation and more project work.
What do you enjoy most about your job?
The interaction with students! No two days are ever the same.
What are the most challenging aspects of your job?
I would say the most challenging part is learning, remembering, and re-learning all the different processes for the different times of the year. Things are constantly changing in a university setting, and as an advisor it is important to be aware of all the new policies and procedures. I can't imagine what life would have been like before everything was posted on the website!
What advice would you give someone interested in your field?
There is no one right major, and a master's degree isn't necessary for most entry-level positions, but having a passion for working with students is key. It also requires a lot of flexibility and adaptability as campuses continuously evolve.
One of the great things about this field is that professionals are generally very willing to share their experience and insight in the field. Finding a mentor can be a great way to find out about what to expect and how to get your foot in the door.