Anastasia Watson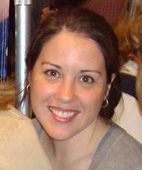 K-State graduation year: 2002
Degree: BS in Mass Communications, emphasis in Advertising
Other degree received: Master of Business Administration (MBA), Baker University, 2007
Current employer: Institute for Professional Development, contracted with Baker University
Position: Enrollment Manager
Describe the process of choosing your major.
I started out in Open Option because I wanted to explore my interests in several different areas before I declared one particular major. This gave me the opportunity to complete my general education requirements while doing a little more exploring. I took a public relations course and realized that "because I'm a people-person" wasn't a strong enough reason to think I'd be very successful in PR. I also took some advertising classes and enjoyed that there was much more to it than just making ads.
What activities/organizations were you involved in while in college?
Advertising Club

Study Abroad

Association of Residence Halls governing board and ambassadors

BIG CATS
Describe the process of finding your first job.
After graduating I moved to the Kansas City area and started job searching. I took two part-time retail jobs and spent about eight months sending out resumes and interviewing for "real" jobs.
Immediately following my first interview I was offered a job as an account executive for The WB Kansas City KSMO-TV selling advertising. I am positive that I got that job because of the combination of my positive attitude and high energy during the interview, as well as my experience studying abroad.
After 16 months and living on 100 percent commission, I started job searching and researching master's degree programs. After about a month and a three-round interview process with the Institute for Professional Development, I was offered a job as an enrollment representative.
Briefly describe a typical day at your job.
I advise adult students on their educational and career goals by helping them find the programs that fit them best and then coordinate their enrollment into accelerated programs at Baker University. I spend time scheduling appointments on the phone, meeting with students individually, giving presentations to large and small groups, teaching classes, and also coordinating training for other enrollment representatives in our company.
Some days I spend several hours visiting with companies and organizations about the importance of education, and other days I spend all day in the office following up with students about their enrollment processes.
What do you enjoy most about your job?
I enjoy witnessing my students becoming proud of their own accomplishments, regardless of how big or small. For many of my students simply taking the first step is a huge accomplishment. At one time I thought I wanted to be a teacher because I felt so strongly about education, but being in a classroom with children wasn't as appealing as helping adult students start their educational journeys.
The payoff comes at the graduation ceremony when an adult student wants to introduce me to his or her family, which allows me to see how my assistance has changed more than one life.
What are the most challenging aspects of your job?
It is sometimes difficult to help people overcome their fears of taking the steps necessary to being successful. I can try to be their biggest cheerleader, and show them a smooth path toward their goals, but if they don't have the courage to move forward and make some thoughtful decisions I'd never be able to help them reach their educational and career goals.
What advice would you give someone interested in your field?
First of all, take advantage of networking opportunities. There are organizations for young professionals everywhere; you just have to find them. (They're not as boring as it sounds. In fact, some are great for your social life, too!) Stay connected with other professionals and let them know what your goals are.
It's amazing how often new opportunities are presented when you know people in lots of different fields. Start by participating in K-State Alumni groups and Chamber of Commerce mixers.
Also, if you haven't already, enroll in a master's program that allows you to be surrounded by other professionals. You'll build your network while earning a higher degree.