Robert Tibbetts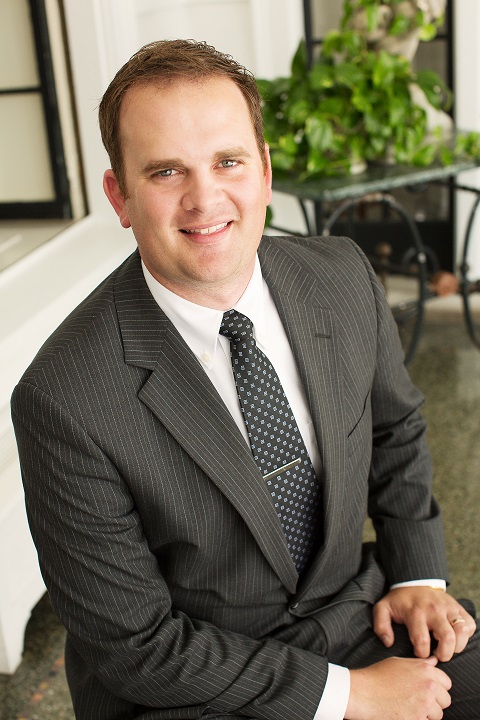 K-State graduation year: May 2010
Degree: B.A. Horticulture, Golf Course Management option; B.A. Hotel & Restaurant Management; minor in Business Administration
Current Employer: The Kansas City Country Club
Position: Operations Manager
Describe the process of choosing your major.
I grew up in a golf shop and knew I wanted a career that would involve golf. K-State had a unique program in Golf Course Management that incorporated hospitality and business into the turfgrass curriculum. After taking a few classes in hospitality, I added a second major in Hotel & Restaurant Management that would further develop my potential career options.
What activities/organizations were you involved in while in college?
Blue Key Senior Honorary

Student Alumni Board

Club Managers Association of America

Golf Course Superintendents Association of America

Beta Theta Pi Fraternity
Did you complete an internship or have related work experience prior to receiving your job?
Absolutely. I completed internships with Victoria National Golf Club, Dallas Country Club, Tahoe Mountain Club, and the United States Golf Assocaition.
At Victoria National, I was a member of the Greens and Grounds team where I learned to manage all aspects of course care and conditioning.
At Dallas Country Club, I was a hospitality intern and had a rotational internship that allowed me to work in every department throughout the Club the entire summer.
While at Tahoe Mountain Club, I worked in the Member Relations department and coordinated special events, golf outings, corporate gatherings and much more.
As a Greens Section Intern with the USGA, I shadowed the Mid-Continent Agronomist on their Course Consulting Services in the Chicago area and made recommendations and evaluated various cultural practices.
Describe the process of finding your first job.
Jobs in Clubs throughout the Midwest were limited when I graduated. I spent several months prior to graduating searching for anything available. I was lucky enough to have built a strong network of friends and colleagues that informed me of a Food and Beverage Director opening before it was made public. I had a solid enough resume to get an interview and my network of references did the rest. I was offered the job the following day and started two weeks after graduating.
Briefly describe a typical day at your job.
No two days are the same in my current job. My responsibilities are wide-ranging as I oversee the Club's hospitality internship program, security, locker rooms, laundry, housekeeping, receptionist, pool operation, technology, renovations, special projects, kid's activities, as well as assist in a la carte dining room and banquet operations management.
What do you enjoy most about your job?
I enjoy the variety of responsibilities I have. I am never bored doing the same thing over and over. I get to work with a wonderful membership that truly is a family to our team. I also love the challenge of building a team of staff members that grows personally and professionally in their time with us.
What are the most challenging aspects of your job?
Time management is among the most challenging aspects of my current job. I am always juggling a variety of projects and events at any one time. It is a delicate balance of prioritizing office work and being highly visible to our staff and membership. In this industry, visibility is paramount and always being aware of what is going on makes such a difference. My office is not just limited to four walls. I have 60,000 square feet of Clubhouse that is in a constant state of motion. It can be daunting making sure we always look our best and provide high quality service.
What advice would you give someone interested in your field?
I would say this. Make sure you are comfortable with working long hours, weekends, and holidays. You need to know that your family and friends can accept the fact that you are busy when the rest of the world is not. If you can come to terms with the responsibility of a profession in hospitality, the rewards you will reap are endless.
Next, I would recommend that you do an internship in this industry and start talking to and networking with the people who work in it every day. Become a sponge and ask all of the questions you can to learn more about why it is so rewarding and what you can expect from a career like this.
What were the stepping stones that led to your current career?
If it weren't for my second internship at Dallas Country Club, I may not have pursued this industry. My experience there was truly transformational. The General Manager and his team changed my perception of what a career in the Club industry might look like. After that experience, I was all in. I began to do everything I could to build my network and find more quality internships that would best prepare me for a future in clubs.
I was fortunate to skip a stone or two when I took my first job as Food and Beverage Director. I know my internship experiences allowed me to bypass a role as a Dining Room Manager or Assistant Manager.
After one year in the role of Food and Beverage Director, my contacts in the industry once again paid off. They gave my name to the manager at The Kansas City Country Club who was looking for someone to fill a positon opening. I interviewed and got the job and have since been promoted.
Has your career path taken any unconventional turns that you never would have expected?
I would say so. I never planned to be a Food and Beverage Director for just fourteen months. When I was approached about leaving my previous position, I was not prepared to make a move at that time.
After some reflection, I knew that a great opportunity was knocking. I just needed to answer the door and move on to a position that would better prepare me for the next step in my progression toward becoming a General Manager.
How have any changes in your life situation affected your career path?
Getting married is a huge step in the way it affects your career. No longer is the decision to stay in a job or leave a job singular. Decisions now affect someone else and need to be for the right reasons. It can be difficult to stay the course, but if you are patient and are willing to be flexible for one another, the end result is so worth it.
What job have you enjoyed the most and why?
I have really grown into my current role and would say it is the job I enjoy the most. Different aspects of all of my jobs have been fun. In my current job, I have a great deal of responsibility to the staff and departments I oversee and their continuous development which is daunting, but challenges me to see the bigger picture and make choices that are in the best interests of all.
What were the major lifestyle changes your first year out of college that made the transition hard from college to the world of work and how did you adapt?
One of the biggest transitions for me was going from making no money in college to now making a regular paycheck. How would I spend all of this money I now had access to in my daily life? It was a challenge putting my money to good use in paying back student loans and purchasing a professional wardrobe versus buying everyday items you always wanted in college but could never afford.
It did not take me too long to adapt this philosophy because all of the everyday items I thought I would use regularly never got used because I was working all of the time. Being responsible as an adult is more than just showing up to work on time every day.
What was the one thing you did in college that has had the most impact on your life or career?
I would say being involved on campus was one of the things that I did that made the biggest difference in my life and career. It taught me the value of networking and building relationships that I use every day. Every opportunity I have to be involved with something or experience continuing education is an opportunity for me to better myself or advance my career.
What tips do you have for current undergrads about opportunities they should definitely take advantage of while they are in school?
Participate in everything that you can while in college be it philanthropies, causes, campus groups or organizations. The people and the experiences are what truly make your college years special. You won't remember all of the parties or information from the classes you took. You will get far more in return for your time helping others achieve their goals than you know.
I wish I would have gotten a group or organization together to do the K-State challenge course. It seems like a very powerful team experience and something I would encourage everyone to try. Building trust in others and being assured of your own abilities is something everyone should spend time developing.
Was there a specific class you remember that sparked your interest in your career direction?
Business Strategy was one class that really made a difference. Not necessarily from a career direction, but from an application standpoint in my career. In any business, there needs to be intentional effort to think strategically which will ultimately impact your ability to meet deadlines or achieve goals. I have found the tools from the class to be incredibly useful and I used them every day in my job.
Was there a specific person in college who had a significant impact on your life or career?
There is not one specific person in college that impacted my life and career. In fact, the group of people is too numerous to name them all. A short list would include my girlfriend (now wife) who was always my biggest supporter, a few classmates involved in Blue Key Senior Honor Society that championed my personal development and my professors in the Department of Hospitality Management and Dietetics who always made time for me.
What didn't college teach you that you wish you would have known before you started your career?
Managing people and managing change is really difficult. It is something only experience doing it and having great leadership can teach you.
Change in your college groups, organizations, and surroundings happen at the speed of light. In business, change is only possible when you have established trust and credibility with your colleagues. One of my favorite lines is "Plan the work and work the plan"
Don't get ahead of yourself as a young person. Be patient and build your credibility with your peers, your staff, and your management. It will pay huge dividends and allow you to build your influence over time.
Do you keep in touch with your college classmates? How have those relationships influenced your career?
I try to maintain relationships with many of my college classmates. It can be difficult because we are all so focused on career development and have moved to all four corners of the United States. It takes time and effort to make these relationships work. I have a few good friends in the same industry that I look to for advice and counsel. They help me make decisions that are right for me and in the best interests of everyone because they know what I am going through. I hope to keep them in my corner for many years to come.
For more information, students can contact Robert at rtibbetts@kccc.com