Chris Thompson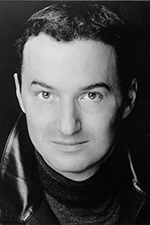 K-State graduation year: 1988
Degree: Bachelors in Music Education/Choral
Other degree received: MM in Voice Performance (Loyola University, New Orleans), Artist Certificate (Guildhall School of Music and Drama), DMA in Voice Performance (University of Kansas)
Current employer: Missouri State University
Position: Professor of Voice and Coordinator of Vocal Studies
Describe the process of choosing your major.
For me it was simple. I knew I wanted to pursue music, and music education seemed both practical and skill centered (voice, piano, conducting, social skills, leadership skills etc.)
What activities/organizations were you involved in while in college?
Churches in Manhattan - Sang and conducted
FarmHouse Fraternity
Did you complete an internship or have related work experience prior to receiving your job?
I student taught in two terrific schools in Manhattan with the very best cooperating teachers I could imagine: Miriam Zeibert (Marlatt Elementary School) and Dan Cummerford (Manhattan High School).
Describe the process of finding your first job.
Wow, so many jobs! For me, it was all about networking and having the right skills and mindset for a specific job. Sure, I worked at all sorts of odd jobs from middle school onward. But, when I started looking for work in the music field, I knew that it would be skills (sight-reading, playing, conducting etc.) that would set me apart from other applicants. When I knew what was available (church soloist, church choir director), I prepared myself fully. That also can be said for my first teaching jobs at a large community college in New Orleans (Delgado Community College) and a private Catholic girls' school (Academy of the Sacred Heart). While completely different in terms of need, both played into strengths. I was so very fortunate to be recommended for both. It is so important to have a great attitude and listen to others. Being a gracious colleague or co-worker is not difficult. Many, many times I have been blessed with opportunities through networking and the adage of preparation meeting opportunity.
Briefly describe a typical day at your job.
I teach private voice anywhere from 4-6 hours. I spend time coordinating the voice area (100+ voice majors): fielding calls/emails/personal visits, auditions, juries, trouble shooting, guest artists, meetings with colleagues/department head/dean. I often have very focused days that are solely about my students, and then other days I have much work beyond my teaching.
What do you enjoy most about your job?
Personal connections, seeking to inspire and be inspired, living in the moment with vibrant young people, challenging myself to meet them where they are and encourage them to take a journey with me. I could go on and on!
What are the most challenging aspects of your job?
Having enough energy for myself at the end of the day.
What advice would you give someone interested in your field?
Prepare your skillset, be open to change, keep working on yourself so your work is relevant to you and your students.
What were the stepping stones that led to your current career?
Academic degrees and experience, professional training programs, life as a starving artist, coming to terms with what makes me happiest, striving for the very best in myself and others.
Has your career path taken any unconventional turns that you never would have expected?
I wouldn't say that any musician's life is typical, but I never made any drastic career changes.
How have any changes in your life situation affected your career path?
Each change/move/challenge has encouraged me to grow, search, expand, wonder, and embrace.
What job have you enjoyed the most and why?
My current: my job is a culmination of all the things I love about my profession.
What were the major lifestyle changes your first year out of college that made the transition hard from college to the world of work and how did you adapt?
mmediately after undergraduate school I went to New Orleans to pursue a master's degree. Needless to say, New Orleans is not Kansas! My lifestyle changed in that I experienced many, many new and exciting things that challenged me to the very core and brought me in touch with a bigger world.
What was the one thing you did in college that has had the most impact on your life or career?
Refusing to every believe that I couldn't do something. I often knew I couldn't do something YET, but I developed an attitude that if I wanted to do something, I would figure out how to accomplish that desire.
What tips do you have for current undergrads about opportunities they should definitely take advantage of while they are in school?
Excel in all, but don't confine yourself to the parameters of your academic requirements. Look for opportunities outside your classwork to better yourself, learn something new, challenge yourself.
Was there a specific class you remember that sparked your interest in your career direction?
Singing lessons and piano lessons. These were the two areas that completely changed my life.
Was there one specific person in college who had a significant impact on your life or career?
I had many incredible mentors who changed and challenged me for the better. Often, it was the professor who taught a class that was an extension of my core that influenced me the most. People who opened up entirely new worlds to me and/or challenged everything about myself were the ones that I still cherish.
What didn't college teach you that you wish you would have known before you started your career?
That's a difficult question, I learned so much.
Do you keep in touch with your college classmates?
I have so many degrees and have lived in so many places. I don't often see many of the people who were my academic colleagues. BUT, when I do, it's as if we pick up right where we left off.