Meagan Scott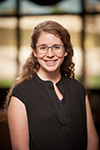 K-State graduation year: 2012
Degree: BA Social Sciences
Current Employer: Kansas State University
Position: Academic Advisor
How many times, if any, did you change your major during college?
Describe the process of choosing your major.
I started in Open Option, because I knew I wanted to work with people in some capacity, but wasn't sure what to major in. I took some exploratory classes and enjoyed Anthropology and learning about different cultures so I declared that as a major, but after some upper level courses I decided I didn't really want to be an anthropologist. Then I learned about the Interdisciplinary Social Sciences major and how I could take courses in History, Psychology, Anthropology, Sociology and other Social Sciences – courses that I was really interested in that would teach me more about people. This interested me a lot, because I didn't want to choose just one area and with an interdisciplinary major I didn't have to. I also figured this degree would allow me to work with people in a variety of capacities since I was largely learning about people throughout history, developmentally and culturally in my classes.
What activities/organizations were you involved in while in college?
Did you complete an internship or have related work experience prior to receiving your job?
I worked as a student worker in an academic advising office during my undergraduate degree and then worked in a Dean's Office as an Administrative Specialist postgrad before becoming an academic advisor.
Describe the process of finding your first job.
My first job after college was actually two part time jobs. I worked as a care giver for older adults in their homes through a care agency and as a class coordinator through a local community center for older adults. I was connected with the community center through an internship I had done with them during my undergrad years and I found the care agency through an online job search.
Briefly describe a typical day at your job.
I meet with undergraduate students who are Open Option, meaning that they are undecided in their major, and help them choose classes that will meet basic requirements and help them to explore possible majors. I also advise students in the Interdisciplinary Social Sciences degree and help them to choose courses to fulfill degree requirements, as well as help them plan and think about their future career aspirations. I not only help students make an appropriate class schedule, but I also answer their questions about campus resources and provide support throughout their undergraduate years. I also serve on committees and on an advising team with 5 other advisors, so many of my days consist of at least one work related meeting and then many one on one student appointments.
What do you enjoy most about your job?
I love that I get to meet one on one with students and help them figure out what they're interested in, help them navigate college, talk about their lives, what they're learning and help them pursue their goals and graduate!
What advice would you give someone interested in your field?
Once you've graduated, if you're interested in becoming an academic advisor I'd recommend trying to get a job at a University. Even if it's not your ideal job, it can teach you a lot about working in the University environment, which is extremely important as you seek new opportunities and your ideal job. There are also graduate certificates and master's programs in Academic Advising that I'd recommend pursuing. These classes can teach you a lot about academic advising and working with college students and many employers may require this additional schooling.
What were the stepping stones that led to your current career?
I worked for two years in a Dean's Office where I learned a lot about University courses, policy, programs and how to work with students. I also started taking classes in an academic advising graduate program. As I took these courses I realized I really wanted to try being an academic advisor, so I started applying and was hired.
What were the major lifestyle changes your first year out of college that made the transition hard from college to the world of work and how did you adapt?
After college I thought I would want the flexibility of part time work since I was used to a flexible schedule during undergrad. After a year though of two part time jobs, I was surprised to find that I actually wanted more structure and stability.
What was the one thing you did in college that has had the most impact on your life or career?
Working on campus in an advising office during undergrad really taught me about the value of helping students and started in me a desire to continue to serve them and help them in their academic pursuits as an advisor.
What tips do you have for current undergrads about opportunities they should take advantage of while in school?
The jobs you have and the opportunities you take to meet people could significantly impact your future. Always be on the lookout for jobs and opportunities that interest you.
What didn't college teach you that you wish you would have known before you started your career?
College isn't all about having the perfect major, to get you the perfect job, that you'll have for your entire life. That may be some people's story, but many people study something they enjoy and then allow the opportunities that come along in life to shape their path and their story and that's okay and even quite exciting to see where you end up!
For more information, Meagan can be reached at mhb27@ksu.edu.