Jonathan Schlatter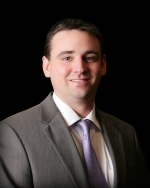 K-State graduation year: 2004
Degree: Bachelors of Business Administration, Major in Finance, Minor in Economics
Current employer: Morris, Laing, Evans, Brock & Kennedy, Chtd.
Position: Attorney
How many times, if any, did you change your major during college?
I think I was always a Finance major, but I considered and pursued majors/minors in Accounting, Political Science and Economics.
Describe the process of choosing your major.
When I left for college, I always intended to obtain a business degree. I enjoyed learning about how business works and found the stories of success and failure to be fascinating. I think I was naturally drawn to the finance program within the CBA because I historically was strong in math. I decided to minor in economics because it was such an obvious academic parallel to finance. I also took a lot of accounting classes. I really didn't enjoy the classes at first, even though I did exceptionally well in them. As those classes became more complex I realized how useful they were with what I was doing in Finance. In the end, I ended up really enjoying accounting classes, and actually graduated only a few hours shy of an accounting degree.
What activities/organizations were you involved in while in college?
Phi Gamma Delta fraternity
Business Ambassadors
CBA Honors Program
Did you complete an internship or have related work experience prior to receiving your job?
I interned with Farm Bureau Financial Services. I also worked a couple summers with my dad at miQuotes, an independent insurance agency.
Describe the process of finding your first job.
I did as many OCI's as I could. I was drawn to my initial job (Office of the Comptroller of the Currency) because of the pay, benefits, and prospect of travelling all over the country.
Briefly describe a typical day at your job.
There is not typical day. I come in and figure out what the most pressing issues of the day, make a list and try and complete as many tasks as possible.
What do you enjoy most about your job?
It's different everyday, extremely challenging and fun. The people I work with are fantastic.
What are the most challenging aspects of your job?
Working with opposing counsel, and managing client expectations.
Has your career path taken any unconventional turns that you never would have expected?
I primarily practice in the area of oil and gas (energy) law. I knew nothing of the industry before I started working in it, and I've enjoyed learning so much about the business from a legal, property, contract/agreement and geological/engineering perspective.
How have any changes in your life situation affected your career path?
When I knew I was going to get married, I decided I needed a job that travelled less. Now that I have children, I'm extremely grateful I do not travel very often.
What were the major lifestyle changes your first year out of college that made the transition hard from college to the world of work and how did you adapt?
Getting into a 8-5 type routine. Also, learning how to act as a professional, and to stop acting like a college kid.
What was the one thing you did in college that has had the most impact on your life or career?
Living in the fraternity was significant for me. The accommodations, community, traditions and common goals taught me many things, work/life balance being the most important.
Was there a specific class you remember that sparked your interest in your career direction?
Do you keep in touch with your college classmates?
Absolutely. My best friends in life are people I met in college, or people I met after college on the basis of a mutual love for the University.
For more information, Jonathan can be reached at jschlatter@morrislaing.com